Jersey's women secure first swimming gold at Island Games
Last updated on .From the section Swimming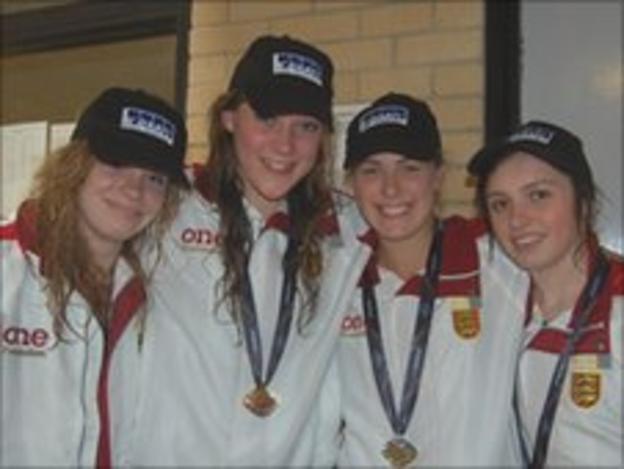 Jersey's swimmers claimed their first gold medal in the pool at the Island Games on Wednesday as they won the women's 4 x 100m freestyle relay.
The Jersey team of Emily Bashforth, Beth Cumming, Ebony Jacklin and Maria Kocot finished in three minutes 55.20 seconds to take gold.
The Faroe Islands took the silver in 3:56.59 with Guernsey third in 3:58.43.
Meanwhile, Guernsey's Ian Powell won a fourth individual gold in the men's 200m backstroke.
Fellow Sarnian Kristina Neves now has five gold medals, after edging out Jersey's Emily Bashforth to take the top prize in the women's 400m freestyle.
Having already won a gold, four silvers and a bronze medal, Guernsey's Thomas Hollingsworth added a second gold to his tally with victory in the men's 100m individual medley.
Jersey medals
Gold - Jersey Team - Women's 4 x 100m Freestyle Relay
Silver - Tom Gallichan - Men's 100m Freestyle
Silver - Charlotte Manning - Women's 100m Breastroke
Silver - Emily Bashforth - Women's 400m Freestyle
Siver - Emily Bashforth - Women's 50m Freestyle
Bronze - Charlotte De Wit - Women's 200m Backstroke
Bronze - Tom Gallichan - Men's 200m Backstroke
Guernsey medals
Gold - Ian Powell - Men's 200m Backstroke
Gold - Guernsey Team - Men's 4 x 100m Medley Relay
Gold - Kristina Neves - Women's 400m Freestyle
Gold - Thomas Hollingsworth - Men's 100m Individual Medley
Silver - Ian Powell - Men's 50m Butterfly
Silver - Lotte Parfit - Women's 200m Backstroke
Silver - Guernsey Team - Men's 4 x 50m Freestyle Relay
Bronze - Jeremy Osborne - Men's 100m Freestyle
Bronze - Ben Lowndes - Men's 100m Individual Medley
Bronze - Thomas Hollingsworth - Men's 50m Butterfly
Bronze - Guernsey Team - Women's 4 x 100m Freestyle Relay