Hannah Miley & Michael Jamieson win at nationals
Last updated on .From the section Swimming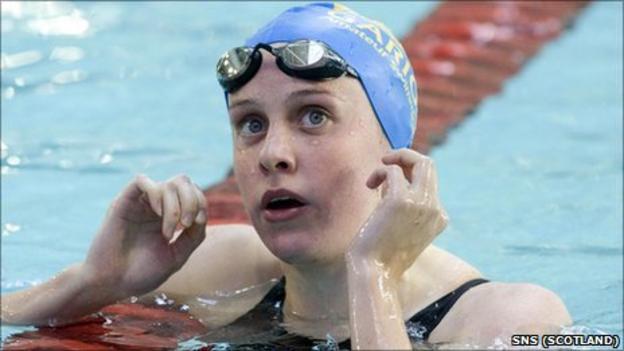 Hannah Miley and Michael Jamieson picked up golds at the Scottish Gas National Open Championships in Glasgow.
In her last meet before heading off for the Fina World Championships in Shanghai Miley saw off Mireia Belmonte of Spain in the 400m individual medley.
Miley also picked up silver in the 200m freestyle, losing out to double Olympic champion Rebecca Adlington.
Jamieson powered to gold in the 200m breaststroke, winning with a three-second margin of victory.
Miley's clash with Belmonte, who held the 400m IM world record to 2009, took top billing at Tollcross.
The Spaniard is fastest in the world this year for the event but, by the 250m mark, Miley had a four second lead which she increased to six in the final 50m freestyle.
"I wasn't sure how I'd do here. I've come here as part of my training for the Worlds, not necessarily to race fast," said a delighted Miley.
"I'm obviously pleased with my time and will now focus on maintaining my form into Shanghai."
Jamieson is also heading to Shanghai, and is pleased with how his year has been progressing.
"It's been a good year; everything has gone well for me so far. Even my recovery from injury seems to have gone well," he said.
"In Shanghai I want to make the final and of course would love to come home with a medal. The Olympic medallists tend to come from the top eight finishers at the Worlds the previous year so I really want to get in amongst the action."