Olympic great Michael Phelps aims to end career on high
Last updated on .From the section Swimming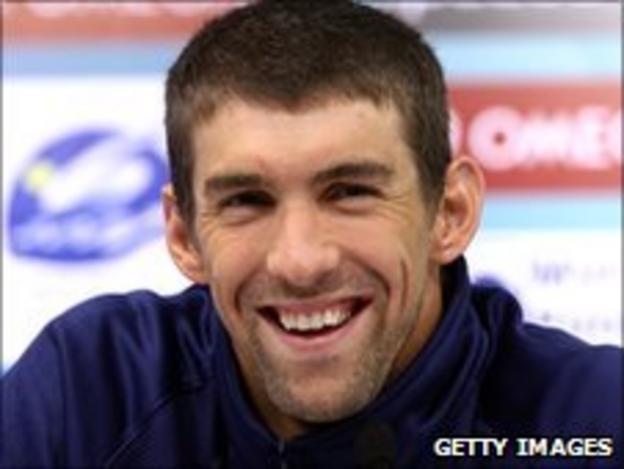 American Olympic great Michael Phelps says he has been "lazy" in the past year but is keen to get back to winning ways, starting in Shanghai.
Phelps, 26, has endured a frustrating 12 months, but ahead of the World Championships he is looking forward to recovering his old form.
"I kind of feel like my old self," said Phelps. "It hasn't been fun recently.
"I think over time I realised that I needed to stop being lazy. I'm excited to be around the pool again."
Phelps has endured some difficult moments since he produced one of the great Olympic performances in Beijing in 2008 by winning eight gold medals, eclipsing Mark Spitz's haul of seven in 1972.
He was banned from competitions for three months in 2009 after photographs appearing to show him smoking cannabis were published.
Since then Phelps has suffered a series of surprise defeats in the pool, but now he believes he is fully focused on what is set to be the last year of his glittering career.
"The last few years haven't really been how we've wanted them to be but they were how they were and we have to build from whatever happened and move forward," he added.
"This year I feel like we've made some progress that I think is going to be big for the next year. Hopefully I'm ahead of schedule of where I want to be, but I think this week is a real test.
"I think we're now in the best place we can be with everything that's happened. I feel good in the water and ready to compete, kind of tired of waiting around."
Phelps admits it feels strange to talk about retiring after next summer's Olympics, but he is excited about what the future holds out of the pool.
"I am excited for the next year and I'm excited to move on and try some other things but also at the same point I think it's going to be really weird to hang up the suit," said Phelps, who is aiming to compete in his fourth Olympics.
"Just thinking about all the memories that you've gone through and experiences that we've had, countries we've been to - I think that was kind of hard to think about.
"It's strange for me to think about, but I know that I've got a year left and it's going to be a good year. I'm excited for it and I'll have fun."