Organisers criticised for allowing races in 'too hot and dangerous' water
Last updated on .From the section Swimming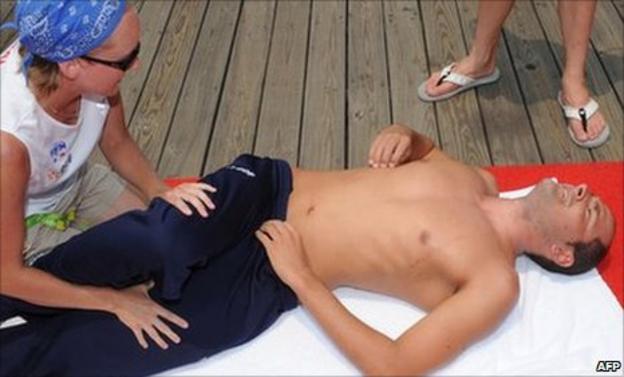 Swimming's governing body has been criticised for allowing the 25km open water races at the World Championships in Shanghai to go ahead, despite the water being "too hot and dangerous".
Of 35 men entered in the race, only 19 finished, with 10 pulling out before the end. Six decided not to start.
At the start of the races the water was 30.5C - just within the safety limit.
Fina president Julio Maglione said: "All necessary safety measures were taken within the regulations."
American swimmer Fran Crippen died last October in hot conditions during a 10km event in the United Arab Emirates.
An investigation into Crippen's death found a number of safety concerns surrounding the staging of open water events.
The extremely high temperatures in China forced the sport's governing body Fina to bring forward the start of the men's and women's races by two hours, to 0600 local time.
But this was not enough for Crippen's friend and US team-mate Alex Meyer, who refused to participate in the event, held off the Jinshan City Beach in the sprawling Shanghai conurbation.
Another American swimmer, Claire Thompson, did start the women's race but was instructed to get out of the water by US officials when their tests showed the water temperature to be 32.6C.
Seven other women retired from the race.
An angry Meyer said: "What's the point in making rules and recommendations if you're just going to blow them off at events like this?
"It's like, did you not learn your lesson? Do you not remember what happened last time?
"And if these Fina guys say, 'Oh you're not in good shape, you're not a good enough swimmer' ... No, it's not because I'm not a good swimmer, it's because it's too hot."
Defending men's champion Valerio Cleri withdrew after four hours, saying: "It was too hot and dangerous".
His team-mate Edoardo Stochino was pulled from the water and taken away on a stretcher as a precaution. He ultimately made a full recovery.
Multiple world champion Thomas Lurz was among those who did not even start the race, along with the defending women's champion, Linsy Heister of Holland.
Fina executive director Cornel Marculescu denied any allegations that the conditions were dangerous.
He said: "In general in 25K races you have swimmers pulled out. The race was completed in a perfect manner."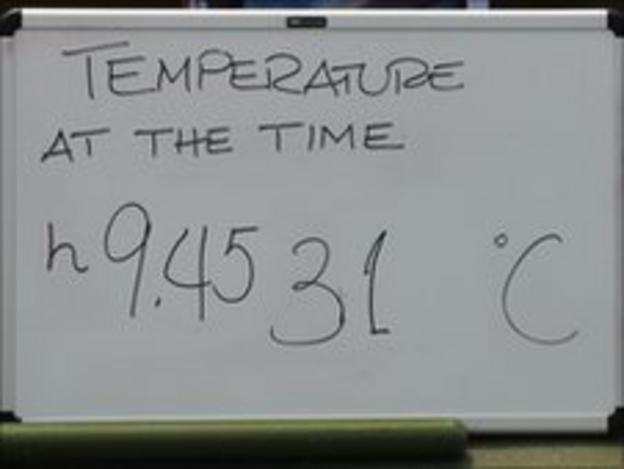 But he said Fina is sharing with the International Olympic Committee the costs of research - being carried carried out at a university in New Zealand - aimed at establishing better temperature limits.
"The target is to be ready by the end of this year and it will be included in the rules for 2012 and the Olympics," he said.
Peter Stoychev of Bulgaria won the men's race in five hours 10 minutes 39.8 seconds ahead of Russia's Vladimir Dyatchin and Csaba Gercsak of Hungary.
In the women's race, Brazil's Ana Marcela Cunha edged out Germany's Angela Maurer by 2.1 seconds in 5hrs 29 mins 22.9secs with Alice Franco of Italy in third.