Steve Parry on swimming great Michael Phelps
By Steve Parry
BBC Sport in Shanghai
Last updated on .From the section Swimming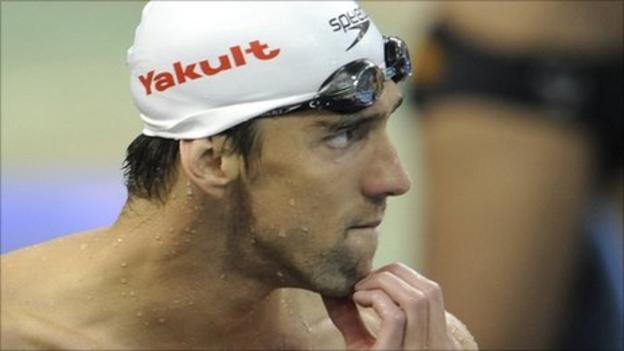 They don't come any bigger or better at the World Championships in Shanghai than Michael Phelps.
The American swimmer has done so much for the sport in the past 10 years, it's incredible. For me, he's as much of a global sporting superstar as Usain Bolt, Roger Federer or Tiger Woods.
No, Phelps has not had the best of times recently. He has been criticised a lot and lost his focus. It's easy to see how he could have become demotivated - he has won 22 golds at the World Champs and 14 Olympic gold medals too.
But now he's back and he wants to prove people wrong. He needed something to get him focused again and I think the critics have done that job for him.
It's hard to say what we should expect from him this week. I think he's vulnerable, especially when you look at someone like Ryan Lochte, who is fantastic and does the lot race-wise, too.
But if Phelps gets an early win and gains some momentum, he might be hard to beat. We've see that happen plenty of times before.
Knowing Michael, he will give it everything he has got, but it's probably fair to say that the only thing that motivates him is Olympic golds and he will be concentrating on next summer.
It won't be like the Olympics in 2008 or the 2005 World Championships when it was nothing but The Michael Phelps Show though.
People ask me what he is like as a person. Michael is a superstar, but he is very down to earth. He says he is a normal person and I think he's a really humble man, he definitely doesn't see himself as being special.
He's had an incredible amount of pressure on him since 2008 but I think he's coped extremely well.
I sampled what it was like to be Michael Phelps for a short time in 2008 in Beijing when some Chinese people mistook me for him and chased me across Tiananmen Square! I wouldn't like to have to put up with that all the time.
People forget how hard it was to do what Phelps did in 2008. They overlook the fact that he won eight gold medals in one Olympics because he made it look too easy.
He is a superhuman man and that was a superhuman feat. He was built to swim - he's more comfortable in water than he is on land!