Steve Parry on the 2011 World Championships in Shanghai
By Steve Parry
BBC Sport in Shanghai
Last updated on .From the section Swimming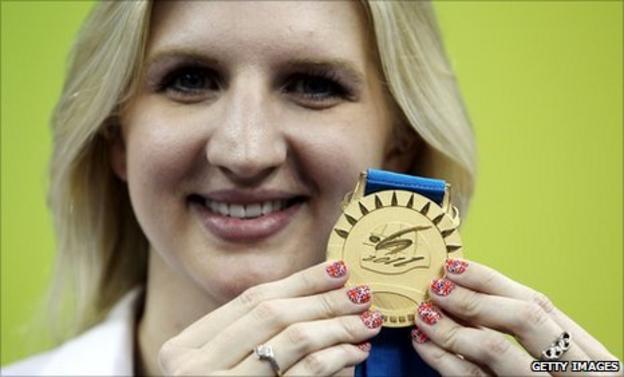 Great Britain won three gold medals at the World Championships in Shanghai - and that is the best indicator yet of what we can achieve at London 2012.
GB missed out on four other medals by the narrowest of margins so the fact that they were knocking on the door indicates a solid week.
There has already been an "Olympic effect" for GB for some time and everything is in place to continue on an upward trend beyond the Olympics, especially with the 2014 Commonwealth Games being held in Glasgow.
There is no reason why GB cannot continue to improve and win at least as many medals in London.
Rebecca Adlington's win [in the 800m freestyle] was extremely impressive. The fact that she beat an in-form Lotte Friis shows that she can tough it out when she has to.
She has proved her superiority at every level and has nothing left to achieve in the sport.
She has won gold medals and set world records and there is no clearer motivation for her than wanting to do it all over again in front of her home crowd at the Olympics.
Keri-Anne Payne was just as impressive winning the 10km open water. It is an event she has won before, so it was not too much of a surprise, but you have still got to get in the water and do it. Keri is a star performer.
Liam Tancock, GB's only male gold medallist, is the back-bone of the British team. He has got five world championship medals and two of those are gold, defending his title in the process. Sometimes I don't think Liam gets the credit that he deserves.
Ellen Gandy and Hannah Miley also put in fantastic performances to win silver medals, and one of the highlights of the week was the embrace between Hannah and her father after her stunning performance in the 400m individual medley.
Michael Jameison was really good in the 200m breaststroke. I expected him to swim fast, but the discipline he has shown makes me think he could definitely be one for the future.
But there's a bit of work to be done on our relays. I think GB have the sort of depth where they could start to contend at the top end if they could fine-tune their performance.
No-one from GB underperformed but in some events the rest of the world raised their game - we have to respond to that.
Fran Halsall was unlucky to get two fourths but I am not concerned. To go to Shanghai and be just outside the medals in two events given the time she spent out, she has actually over-achieved. Fran's poor start may have been the difference between first and fourth, and Fran and her coach know that.
But it has been a week of great performances. There was a guy this week that won five gold medals and two silver medals and his name is not Michael Phelps.
Ryan Lochte put in one of the greatest performances at a world championships and we will see fireworks at London 2012 when the two greatest ever all-round swimmers go head-to-head.
Admittedly Phelps has not been at his best this year but overall I would say he is the better swimmer. Phelps needs to get a year of hard training under his belt but one thing is for sure: Phelps will not shy away from a fight.
Phelps will be waking up at 5am every morning with fire in his belly to prove that he is the greatest ever Olympian.
Sixteen-year-old Missy Franklin has been a star find at these championships. She claimed a double gold - over a year after qualifying for Shanghai. It will be interesting to see how Missy performs at the American trials and whether she will be able to continue her rise with gold in London.
But one thing is for sure: If London 2012 is anything like Shanghai, it will be a roaring success.