GB women's water polo team win bronze in Four Nations
By Nick Hope
BBC Olympic sports reporter
Last updated on .From the section Swimming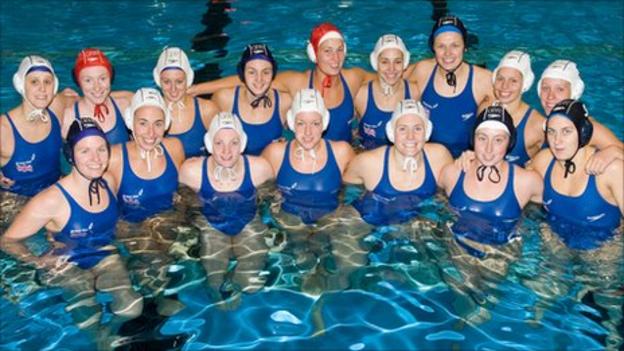 Great Britain's women's water polo team warmed up for their key European Championship qualifier against Ukraine by winning bronze in the Four Nations.
They beat Germany 10-9 in Manchester on Sunday and are now focusing on progressing to their first European finals since 1997.
"Germany are in the top seven in Europe and we beat them twice this weekend," said head coach Sylvezter Fekete.
"It's looking good for next week as well as [the Olympics] next year."
Great Britain lost their other fixtures at the Four Nations Invitational meet to World Championship silver medallists China (14-5) and World quarter-finalists Canada (11-4).
However, Fekete insists the team are making excellent progress.
"We've done well against two World Championship finallists and we've started to play the kind of water polo we want to be playing."
The British women have experienced a productive 12 months.
In October of last year they joined the national league of Hungary in a bid to increase their exposure to elite opponents in the run-up to London 2012.
The move appears to have worked as Great Britain opened their European Championship qualification campaign with a convincing 26-1 victory over Israel in January and an impressive 11-7 defeat of Ukraine away from home in March.
That month they also learnt that both the men's and women's water polo teams would receive guaranteed host-nation berths at the London Olympics.
Boosted by that news they went on to claim an historic 10-9 victory over this year's world champions Greece in a tense Fina World League match in Barcelona in May.
Britain lost to Euro group B winners Spain twice, but their early form has put them on the brink of a place at the 2012 European finals in Eindhoven, the Netherlands, in January.
"Thinking back two years ago when we first joined, we have come so far," said GB World Class Performance Manager Joanna Wray.
"We have beaten some strong teams this year and last and I'm confident we will continue to get stronger with every match."
Great Britain will secure their place at next year's European Championships by defeating Ukraine this Saturday, which starts at 1800 BST at Manchester Aquatics Centre.