Somerset swimmers flood Big Splash pools in record numbers
By Petros Georgiou & Ben Thompson
Big Splash
Last updated on .From the section Swimming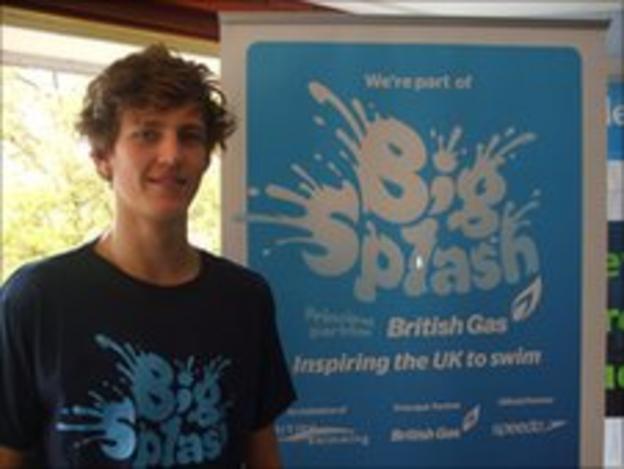 As the Big Splash continues to inspire the UK to swim, the people of Somerset are taking to the water in record numbers.
Over 31,000 people, enough to fill Wembley Arena twice, took the plunge in Somerset pools in just one month.
Spurred on by the Big Splash campaign, MENDIP District Council pools, alongside Avalon Leisure, persuaded people from all over the county to put on their swimming caps and flood to their local pools.
The success of the campaign led to the pools offering free swimming sessions to all during the course of September, as a reward for the public turning up in such impressive numbers. The pools also awarded three lucky winners a year's worth of free swimming.
The free sessions proved so popular, one Saturday session at Wells had to turn eager swimmers away.
Bambi Mochine visited the pool at Wells during the free sessions along with her three year old son Zak as "He loves the water" and attends weekly lessons.
Bambi is eager for her son to embrace the water, she explained: "Some of my friends can't swim at all. They're adults and they won't take their children swimming because they're scared."
Cameron Davidson, a poolside member of staff, said: "It's good seeing more people in the pool."
Cameron, 17, swims five times a week and sees swimming as a great social activity which helps to keep him fit.
He added: "I like the way it works every single muscle, even the muscles you don't think you have."
Lorna Macdonald, who attends the over 50s class at Strode noticed Big Splash posters at her local pool which helped to give her the "push I needed to get involved." Lorna now swims twice a week.
Bob Buckingham, membership manager at Avalon Leisure, said they hoped to "build on the success" by introducing other swimming-related activities as well as implementing the Big Splash Reward Card which is available nationwide.
Other pools across the country are also putting in similar efforts to get people back into the water through services such as Splashpath, who offer a wide range of deals and discounts.
If you would like to get involved in the Big Splash campaign, you can find a participating pool via the pool finder and keep fully up to date via the Big Splash website and Twitter.