Australian swimmer lies to police on skateboard injury
Last updated on .From the section Swimming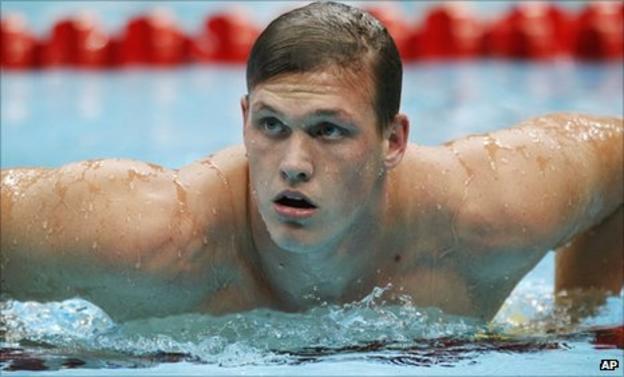 Australian swimmer Kenrick Monk has admitted lying to police over a broken elbow he suffered earlier this week.
Monk, who won a relay gold at last year's Commonwealth Games and hopes to compete at the 2012 Olympics, had said he was deliberately struck by a car while out training on his bicycle.
But he has since confessed that he was injured when he fell off a skateboard.
"I was embarrassed. I didn't know what to do. I panicked, I freaked," said the 23-year-old.
"Basically to know that I've just fallen off a skateboard, something that a 10-year-old can ride."
The Australian Olympic Committee (AOC) excluded athletes facing criminal charges from the Beijing Games in 2008.
Swimmer Nick D'Arcy and cyclist Chris Jongewaard were not considered for Beijing after they were charged, while judo star Matt Celotti left the Games in disgrace after an assault charge was revealed.
Monk, who had been hoping to take part in Australia's Olympic trials next March, faces six to eight weeks on the sidelines after breaking his elbow in two places.
"I remember the guys in the car yelling 'oi' and laughing. I turned and I got whacked on the side. They were young and dumb, trying to impress their mates," Monk said at the time.
"But I know myself I shouldn't have been on [the skateboard] and so I rang the police and I changed my statement."
His coach Michael Bohl added: "He felt very embarrassed to say that he fell off a skateboard, which is something he felt only young kids could do.
"But it's one thing to tell your friends and family, and another to broadcast it to the Australian public.
"It is a matter for the AOC to see what happens, and Kenrick will also have to appear before a Swimming Australia disciplinary committee."
Swimming Australia chief Kevin Neil said: "The entire matter is regrettable and we will be making no further comment until the full details of the incident are known."