Fran Halsall wins gold at the Fina World Cup in Berlin
Last updated on .From the section Swimming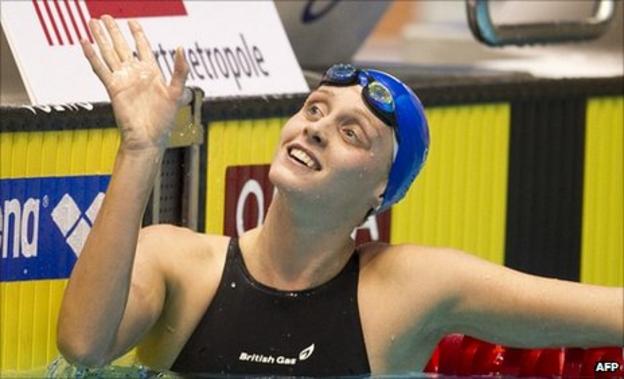 Fran Halsall won gold in the women's 100m individual medley on the final day of the Fina World Cup in Berlin.
The Briton won 100m butterfly silver and 50m freestyle bronze on day one on Saturday and then returned on Sunday to power her way to medley gold.
Compatriot James Goddard took 100m and 200m medley silvers, twice finishing behind 14-time Olympic champion Michael Phelps, and a breaststroke silver.
Phelps was the star of the show, finishing with four gold medals.
Having won the 100m and 400m individual medley finals on Saturday, the 26-year-old American added victory in the 200m medley and 200m backstroke on Sunday.
He won all four finals in the year's world best times but declined to race in Sunday's 100m butterfly final having qualified second fastest from the heats.
"I am quite happy with the way things are going, I was here to test myself and see how good I am at the moment," said Phelps.
"I am in good shape and feel a lot stronger than I was a year ago. Now, it's a case of keeping the training going and putting the work in."
Fellow American Missy Franklin, 16, enhanced her reputation ahead of London 2012 by breaking the 200m backstroke world record on Saturday.
She became the first woman to set a new world best since performance-enhancing suits were banned in 2010.
The three-time world champion followed that up by winning the 100m backstroke and 100m freestyle on Sunday, but had to settle for second behind Halsall in the 100m medley.
"I still can't believe it," said the teenager. "It is all so unbelievable, I didn't even know what the world record was before the race."
Britain won 13 medals in total with their other medals coming from Ross Davenport (400m freestyle silver), Sophie Allen (200m individual medley silver), Aimee Willmott (400m individual medley silver), Lizzie Simmonds (two backstroke bronzes), Ryan Bennett (backstroke bronze) and Michael Rock (butterfly bronze).