London 2012: Ian Thorpe - new regime making him a 'better swimmer'
By Nick Hope
BBC Olympic sports reporter
Last updated on .From the section Swimming
It is possible that Ian Thorpe was attempting to lower expectations ahead of one of the most anticipated comebacks in Olympic history when he confessed he expects to fail in his mission to reach London 2012.
However, could it also have been an admission that swimming has simply moved on since the five-time Olympic champion was at the peak of his powers?
Thorpe returns to competiton in Singapore on Friday and the sport has certainly changed since he retired in 2006.
Although he says he is now a technically "better swimmer" than before, the Australian is having to adapt - and quickly.
THE 2012 PLAN
"My goal at the start was to be able to swim faster than I used to be able to swim," Thorpe told BBC Sport.
The 29-year old has frequently reiterated that his aim is to qualify for London 2012, rather than claim a sixth Olympic gold medal.
"I have to limit my expectations because I go from thinking I am one of the best swimmers in the world - but I haven't competed in nearly five years," said Thorpe.
Thorpe owned the 400m freestyle from the 1998 World Championships through to the 2004 Athens Games, but he has dropped the event this time around in a bid to become a 100m and 200m freestyle sprint specialist.
The Australian has proven pedigree over the distances, winning what was dubbed the 'race of the century' to claim 200m gold and 100m bronze in Greece, but victories were never as guaranteed.
TRAINING
"From day one I realised things would have to be different."
Take one glance around the stunning Swiss scenery and you could be forgiven for thinking that was Thorpe's main motivation behind relocating to Lugano, but he insists there was more to it.
"It helps being in such an inspirational setting, but the main reason to come was because of the coach, Gennadi Touretski, who is one of the best sprint freestyle coaches in the world," said the Australian.
And make no mistake, Thorpe's Russian trainer pushes him hard.
"Trying to swim the 100m and 200m from a sprinter's perspective, rather than coming from a distance training regime, is like switching sports," reflected Thorpe.
"You take a bit of an ego bashing, but I had to do it and it's meant that I'm a better swimmer now, technically, than I was and the stroke I have now is the right one for the events I'm aiming to compete in."
DIET
"I always cooked with my grandma as a child and could make main meals by the time I was seven or eight."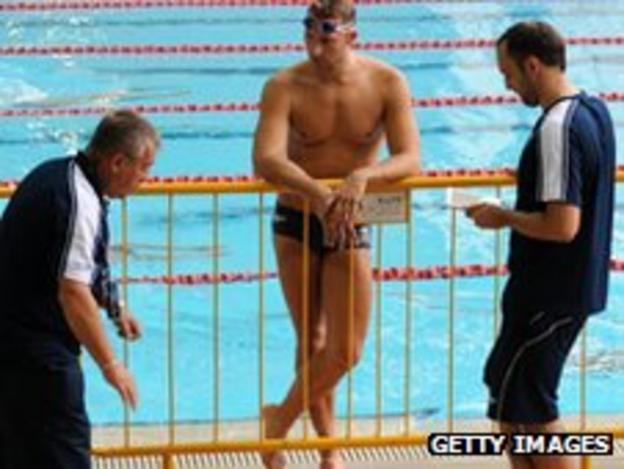 Ian Thorpe is a big fan of food.
After retiring he certainly gained a few pounds and he had to lose over 20kgs to regain race fitness.
But he still has to consume around 3,000 calories per day, spread across five meals, and Thorpe outlines the 'food should always be fresh' philosophy that has aided his return to the pool in his own cookery book.
"I have to use this strategy because when I get home I have the same thoughts as everyone else, to pick up the phone and order pizza," said Thorpe.
"Just because you are busy, as a parent, business person or athlete, it doesn't mean you can't eat well.
"I've been travelling all over the world for competitions since I was 15 and have sampled lots of different cultures and cuisines, so it has become a real passion of mine."
LIFESTYLE
"My favourite thing when I stopped swimming was being able to be more relaxed with my time."
Lugano stands just 10 kilometres from the Swiss-Italian border, and Thorpe occasionally finds it frustrating that he cannot take greater advantage of his surroundings.
"The location is great," he said. "Milan is the closest city so there's an Italian lifestyle and cuisine here, but also that Swiss organisation, so things work still.
"I don't miss cutting out the occasional glass of wine, but having to be at a restaurant by 7pm and always leaving early because I have to be up the next morning for training can be hard."
There is one vice he has retained and shares with several British cyclists, a love for coffee.
"I have between four and five espressos a day - it's not good for you, but then there are a lot worse things."
LONDON 2012
Can Thorpe realistically fulfil the romantic ideal of climbing onto the Olympic podium once again?
Michael Phelps, the American 14-time Olympic champion, admitted it should make races 'a lot more interesting' with the Australian back in the pool, and although the man himself would not be drawn on the subject his coach thinks success in 2012 is possible.
"His fitness and his technique were ready many years ago, for me the greatest question is whether he has the hunger for it now," Touretski told BBC Sport.
"If he really wants it, he will take it."
BEYOND 2012
"People often ask 'What after London?' but I say that I'm happy I've found the love and passion for the sport that I had when I was a kid," Thorpe told BBC Sport.
"As long as that stays, I'll be around, and I have every intention to keep swimming after London."