Ian Thorpe fails to qualify for World Cup 100m butterfly final
Last updated on .From the section Swimming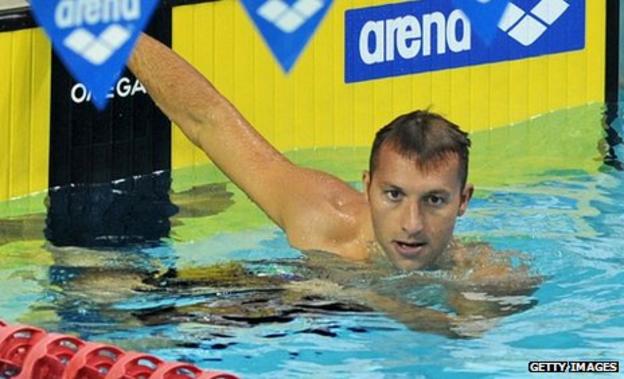 Olympic great Ian Thorpe's comeback ended in disappointment as he failed to qualify for the World Cup short-course 100m butterfly final in Singapore.
The 29-year-old Australian was third on Saturday in his butterfly heat in 54.09 seconds and 11th overall.
He had finished seventh in the 100m individual medley final on his return to competitive action on Friday.
Thorpe, who quit the sport five years ago after winning five Olympic golds, .
"I came here expecting to get absolutely hammered in races and I knew it was going to happen," he said. "Anyone who didn't think that was going to happen didn't have this in perspective.
"I have to have a kind of reality check of where I am as opposed to how I feel in training," he added.
Thorpe, who has been training in Switzerland under coach Gennadi Touretski, plans to swim World Cup short-course events in Beijing and Tokyo as he builds towards the all-important Australian Olympic trials in March.
"I was quite annoyed with myself this morning with my time and things like that," he said. "Now I know what I need to do. Racing for me is tough, it is tough to get back into this mode.
"It is not like I've fallen back, I feel like I'm on track. It's just that in the scheme of things I would have liked to have swum better this morning.
"But I also look at where I came in the race, what time I did and look at how I felt a few months ago - I would have taken this any day three months ago."
Thorpe, who collected five Olympic gold medals in 2000 and 2004 along with 11 world titles in a glittering career, has publicly played down any hopes of returning to the dominant position he once held, with his focus on qualifying for a strong Australian Olympic squad next year.
He last swam competitively at the 2006 Australian championships, where he won the 100m freestyle, before quitting the sport that year aged just 24, citing a lack of motivation.