Ian Thorpe fails to qualify for Beijing World Cup 100m butterfly final
Last updated on .From the section Swimming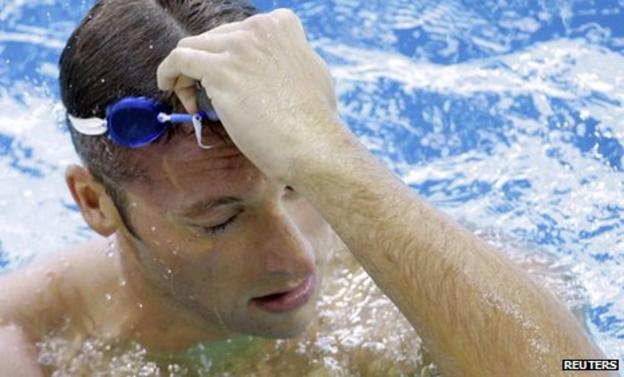 Olympic great Ian Thorpe suffered yet another disappointment on his comeback to the sport by failing to qualify for the 100m butterfly final in Beijing.
The Australian, 29, touched home in 54.35 seconds to finish 13th fastest in the heats of the World Cup event.
He was more than two seconds slower than Japan's Kosuke Hagano, who was fastest in qualifying.
On Tuesday, Thorpe failed to reach the freestyle final, finishing sixth in his heat and 15th overall.
He also took part in the 100m individual medley heats but came ninth overall, and insisted after his underwhelming two days in Beijing that he had been prepared for failure.
"I think it is harder for everyone else than it is for me," said Thorpe. "I think I've kind of accepted that I won't be winning the next few competitions, and I'm OK with it.
"You know, people have told me, 'You're used to getting out of the pool first, what's this like?' It's really good if you want to lose your ego. You take a little bit of a battering and it sets you up for the next preparation."
Thorpe made his return to competition in Singapore last week but failed to make the 100m butterfly final and finished seventh in the 100m individual medley there.
The five-time Olympic only decided late on Monday to swim the freestyle in Beijing in the hope of avoiding any hype surrounding his return to his favoured discipline.
In the event, Thorpe was nearly three seconds slower than he was in his last 100m freestyle race back in 2003.
His focus now is on qualifying for a strong Australian Olympic squad next year, and he has plenty to work on following his return to competition.
"What will probably change is I'll be able to attach the feeling of racing to the feeling of training, and being able to marry the swimming together again, rather than being two very distinct things," he said.
Thorpe's last competitive action before Tokyo had been at the 2006 Australian championships, where he won the 100m freestyle, before quitting the sport that year aged just 24, citing a lack of motivation.
He now moves on to the Tokyo leg of the Swimming World Cup on Saturday and Sunday, where he might participate in the 100m individual medley, the 100m butterfly races and the 100m freestyle.
"I think my biggest accomplishment would be coming and racing, and racing well. I don't really have fears," said Thorpe.