Making a Splash by doing a placement at the BBC
Last updated on .From the section Swimming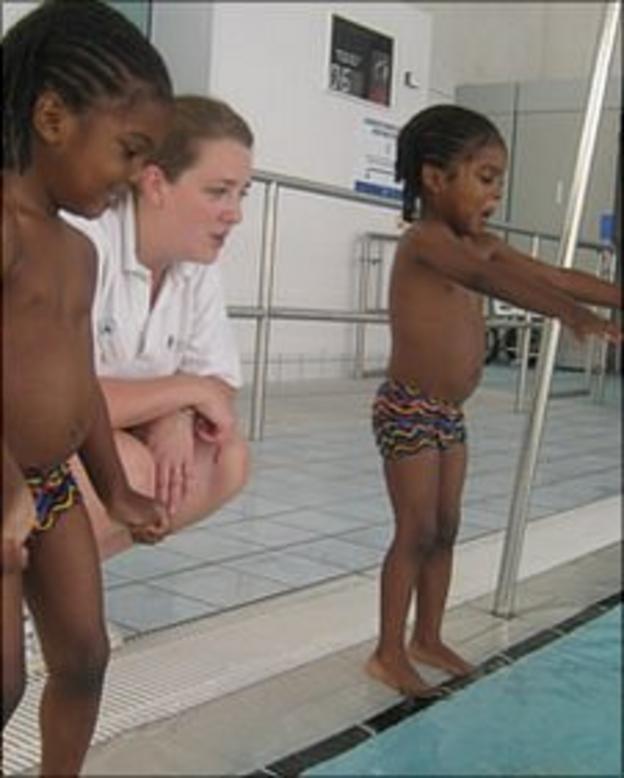 Seven young trainees recently had the opportunity to work with the Big Splash team for a week - we asked them to sum up their experiences and share their thoughts about life at the BBC.
The Big Splash is a mass participation campaign where the BBC is working closely with the national governing body, British Swimming, to encourage people to learn how to swim and to inspire more people to swim regularly.
As part of the Big Splash, the BBC will highlight swimming as an important life-skill and gateway to a host of fun activities through a range of well known programmes across TV, radio and online.
Sarah Roberts, London, 2012 Community Trainee
My name is Sarah Roberts and I'm a 26-year-old mother of three and have lived in Hackney, London all my life.
My placement has been so amazing; I've learned so much history about the BBC and going on the BBC Television Centre tour was so interesting - finding out how the weather is broadcast and seeing how the news comes in from all over the globe.
Working with the Big Splash has opened a lot of opportunities for me and motivated me more than ever to pursue my dreams of working in the leisure industry.
Growing up as a child I always loved to go swimming but my younger twin boys are nearly three-and-a-half years old and have never been swimming in their lives. The highlight of working on the Big Splash was taking them swimming for the very first time at Clissold Leisure Centre in Hackney - seeing them take the plunge was an amazing feeling I will never forget.
First they learned how to be confident in the water and about getting in and out of the pool safely. We played games and all sang songs together and they were filled with so much happiness I know this is the start of something that will stick with them for life.
It's been a real pleasure working within BBC Sport so thank you to everyone for encouraging people from all backgrounds to take part in the BBC's commitment to the 2012 Legacy.
Olivia Barber, Bury and Harriet Webb, Macclesfield
The week began getting accustomed to the hectic London Transport, your first journey at rush hour is one to be remembered!
Arriving promptly at the BBC TV centre it was hard not to be impressed yet a little overwhelmed about what the week had in store.
Our brief was to work together and produce two written pieces to appear on the Big Splash website, a story on a feature of our choice, followed by this blog reflecting on the week's experiences.
After a tour of TVC and some celebrity spotting we put our heads together to create some potential features. Developing these ideas as part of a team and pitching our suggestions to established members of BBC Sport was simply invaluable.
Initially, we found ourselves being slightly over-ambitious but with some expert guidance a strong story began to take shape. We had discovered a whole host of middle-aged water sports fanatics or, as we prefer to call them, 'Silver Surfers' and decided to highlight their activities.
Following some interesting interviews we had gathered vast quantities of information so had to cherry-pick the key facts to write an interesting yet concise article along with supporting pictures and statistics.
It was great to see our article published on the BBC website and It's been a very positive introduction to working life in the BBC. We would encourage others to apply for similar opportunities and make the most of what the BBC has to offer.
Silver surfers take to the waves to make Big Splash
Petros Georgiou, Middlesbrough
I just finished my placement at the BBC! Was it what I expected? No, it was so much better!
I remember getting off at White City tube station on my first day and walking towards the BBC Television Centre thinking, "I wonder if I'll meet anyone famous" only to see Ciaran Griffiths who plays Mickey Maguire in Shameless moments later. I was ecstatic!
I met some great people and even got to travel to another city to cover a story. I've had such an amazing time at my placement and have grown so comfortable being part of the team that I didn't want to leave.
The placement was only for a week but it's unbelievable how much I feel I have grown and how much I feel I've learnt in such a short time.
Ben Thompson, Hull
Whilst I've been at the BBC, I've ended up doing things I never thought I would - in a good way!
One day I was popping my head into a studio watching Snow Patrol on Later with Jools Holland, the next I was on my way to the middle of Somerset to interview locals at a swimming pool and it finished with having an article published on the BBC website.
Yet, despite never even imagining that would be what I was up to, it's exactly what I hoped I'd be doing. Being in the thick of things at a place like the BBC, which is renowned worldwide for its work, is exactly what I wanted and imagined.
I would love to come back to the BBC on a permanent basis after my degree, but if I only take one thing from my week here, it's that I'm going to get back into my swimming.
Being surrounded by the Big Splash for a week, I need to get my fix one way or another!
Maria Hampson, Wigan
I have thoroughly enjoyed my time at the BBC, it's been a fun and educational experience, giving me a fantastic insight into how a professional media team operates.
I have learnt a lot, including how to create and write a feature for the BBC Big Splash website - to have work published is really exciting and great for the CV!
Writing the feature was our main challenge, and it was great journalistic practice. We had to come up with an interesting story, then plan how we were going to do this and who would be our interviewees.
We then had the chance to go on location and conduct our interviews with a view to creating the best story possible.
I have received invaluable working experience, as well as great contacts. And being based at BBC Television Centre in London has been a great experience in itself, casually seeing celebrities on my breaks, and getting a chance to see some of the studios where BBC programmes are filmed. Seeing the set of Later With Jools was a highlight.
I found my placement exciting and rewarding and would definitely recommend it to anyone who wants to break into Television or Journalism.
Greg Cox, Clevedon
Working at the BBC was been hugely enjoyable and an exciting experience. Many work placements can be rather dull, being trusted to just make the tea or shadow a disgruntled editor.
But for the Big Splash we were given creative freedom and challenged to produce a written piece for the BBC website. We were here on merit and subsequently respected as such and had something tangible to show for it at the end of the week.
Also not every office has a table tennis table but from my experience this week more definitely should!
Just working in Television Centre itself is a pretty eye opening experience. Whether just looking around at people in the canteen and trying to guess what their jobs may be, to catching a lift with that news reader, whose name you can't remember, there are certainly plenty of pleasant surprises around each corner.
It's not everyday you can have your lunch sitting next to the mighty Robbie Savage, sunbathing on a bench!
I whole-heartedly recommend applying for the chance of a work placement at the BBC. Only good can come of it and the contacts and experience you acquire are invaluable and will definitely improve your CV.
To apply for a work placement at the BBC click on this link: bbc.co.uk/careers/work-experience