Ian Thorpe 'comfortable' with form despite Tokyo World Cup failures
Last updated on .From the section Swimming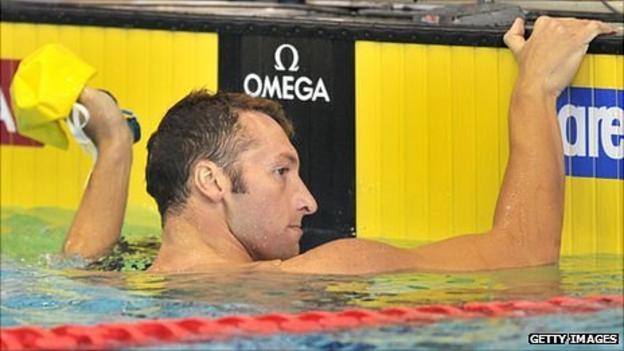 Australia's Ian Thorpe insists he is "comfortable with where he is at" despite being well off the pace on his comeback to competitive swimming.
The five-time Olympic gold medallist failed to reach the final of the 100m freestyle at the Tokyo World Cup meeting on Saturday.
He then placed 26th in heats for the 100m butterfly on Sunday, despite shaving nearly a second off his time from his efforts in Beijing earlier this week.
After clocking 54.35 seconds in Beijing, Thorpe touched in 53.59 in Tokyo, but still more than two seconds adrift of fastest qualifier Takeshi Matsuda of Japan (51.39).
"This week has been challenging," said the 29-year-old, who has returned after a five-year absence. "I wish I could have done it with no-one watching - but that's unfortunately not the case."
Thorpe, who clocked 49.45 seconds to finish 12th in the 100m freestyle heats on Saturday, 0.76 secs better than the time he recorded in China, added: "I am very comfortable with where I'm at."
Australian head coach Leigh Nugent was also upbeat about Thorpe's prospects after his freestyle effort. "That swim shows the sort of improvements that he can make," Nugent said.
"He dropped nearly a second in his final 50m from Beijing. The time drop was a significant leap."
Thorpe, who hopes to qualify for next year's London Olympics, withdrew from the heats of the 100m individual medley.