Should Adlington, Lochte & rivals be wearing swimming 'super-suits'?
By Nick Hope
BBC Olympic sports reporter
Last updated on .From the section Swimming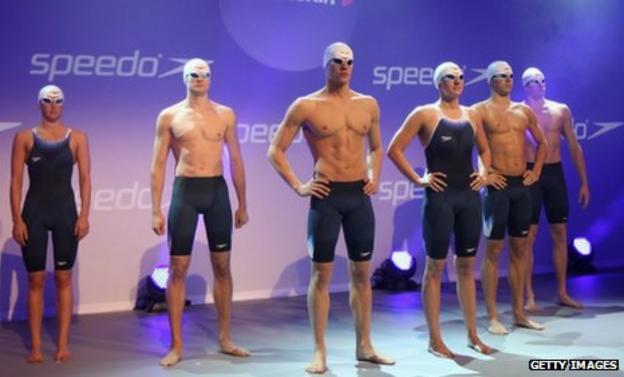 Double Olympic champion Rebecca Adlington says swimming world records will be broken at the London Olympics and that technologically advanced suits will help.
Since the 18-month 'super-suit' period between 2008 and 2009 when nearly 300 global records were set, only US swimmers Ryan Lochte and Missy Franklin have managed to achieve new world record times.
However, the launch of Speedo's new FastSkin3 creation suggests the race to find even the smallest possible competitive edge for the London Olympics is well under way.
"There's been a lot of rules that have come into place which is good, but this suit just doesn't feel like it has any rules or restrictions," Adlington told BBC Sport.
"Swimming has become so close - everybody wants that little bit extra and hopefully this suit will give us that."
But should swimmers be afforded this assistance?
BACKGROUND
Australia's Ian Thorpe helped introduce the idea of the bodysuit to international audiences with his triple Olympic gold medal haul in Sydney 2000, but there was still a sense of intrigue which greeted the arrival of the Speedo LZR Racer even eight years later.
With the inclusion of a polyurethane layer it was said to offer 38% less drag than traditional suits and helped achieve quicker times by compressing a swimmer's body into a more streamline shape.
Athletes from several nations broke contracts with other manufacturers in a scramble to don the suit and results suggested it worked with 23 of the 25 world records and 94% of gold medals at the Beijing Olympics achieved by swimmers wearing the LZR Racer.
However, Great Britain's 1980 Moscow Games gold medallist Duncan Goodhew joined several high-profile figures in suggesting the sport was at risk of losing its integrity and called for the suits to be banned.
Protests grew stronger when a second wave were introduced in 2009, most notably the 100% polyurethane Arena X-Glide and Jaked 01, which claimed to further compress muscle, add extra buoyancy and provide greater forward propulsion than previous creations.
Adlington, who wore the Speedo LZR Racer during her double gold campaign in China, refused to upgrade to the new suits in the build-up to the 2009 World Championships, suggesting they represented "technological doping".
Bob Bowman, coach to 14-time Olympic champion Michael Phelps, went so far as to suggest the American should withdraw from racing until the suits were reviewed.
Fina finally took note and issued new regulations for the start of 2010, which included banning the 100% polyurethane suits and instructing a return to common textile fabrics, with men in shorts and women in suits above the knee and to the shoulder strap.
DID THE 2010 REGULATIONS GO FAR ENOUGH?
"They [Fina] set out the rules - our job is to innovate within those rules," Speedo vice-president Sean Hastings told BBC Sport.
Speedo claim the FastSkin3, which will be used by swimmers at the 2012 Olympics, represents the first time they have pushed the boundaries outlined by Fina and they are certainly taking a novel approach, treating the goggles, hat and suit as an "integrated racing system".
It is something Bowman favours, but Parry believes changes to hats and goggles will have little impact and that the costumes are still an area of contention.
"If we are going back to the purest form, why not say cotton briefs for men and costumes for women?" said Parry.
"Over 200 world records in two years was ridiculous, but rather than change the silhouette [area of the body covered by the suit] I believe Fina should have just given manufacturing guidelines on materials.
"The women can still massively benefit from suit technology, [due to the area of their bodies covered by a costume], but the men not as much, so I don't think the new developments will have a big impact on the men."
ARE WE ENTERING ANOTHER SUPER-SUIT ERA?
"A little technology makes the sport exciting," Parry told BBC Sport.
It certainly provides a talking point and rival companies such as Adidas, Arena and Jaked are likely to follow Speedo's lead in the coming months with launches of their own for London 2012.
Three-time Olympic gold medallist Ryan Lochte admits it may create an uneven playing field but that every swimmer has a choice.
"When I put it on I feel superhuman, I feel like I can beat anyone. When I get on the blocks I'm like an action figure," said the American.
"It's not like it's only available for Speedo athletes. It's out there for any swimmer who wants to wear it, so it's their disadvantage if they don't want to wear it."
Parry does not feel things will return to the same state as in 2008-2009, but issued caution.
"Fortunately, with the rules that have been brought in, I can't see us getting into a situation we were in before, but I can see some suits being better than others so it hasn't entirely solved the problem."
Whether you believe they will be technologically assisted or not, records will more than likely be broken at the London Games as athletes aim to peak in an Olympic year.
"It builds up over the four-year cycle and Olympic year tends to be the biggest year for world records anyway, so I think next year we'll see them go and hopefully some British guys can get some world records with the British crowd behind us."
The message from athletes appears to be that, so long as it's legal, they will do anything they can to gain a competitive advantage over their opponents.