GB water polo squad in unfamiliar waters
By Nigel Adderley
BBC Sport at Manchester Aquatics Centre
Last updated on .From the section Swimming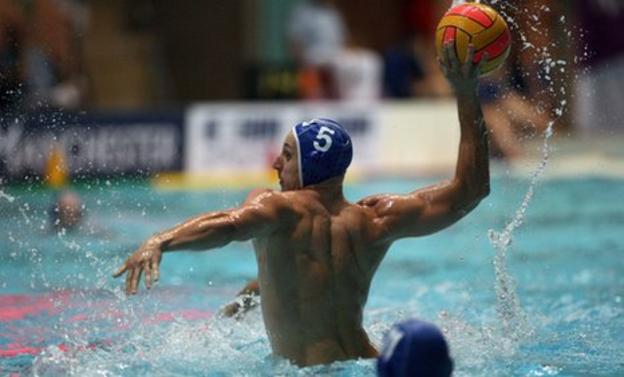 Craig Figes hauls himself out of the pool. His torso is scarred following four brutal quarters of punching, gouging and elbowing. With the contest now over he has to contemplate another flight back to Italy, leaving his wife and family behind.
Figes is the captain of Great Britain Men's water polo squad, which will be competing in the Olympics for the first time since 1956 next summer.
Even though the sport is believed to have been born at the Arlington Baths club in Glasgow in the late 19th century, GB has done next to nothing in the sport since winning the last of its four gold medals at the 1920 Games in Antwerp.
To avoid embarrassment at London 2012 something drastic had to be done, which is why all of the GB team play abroad. The 17-man squad are spread across major leagues in seven European countries.
Figes gave up being a geography teacher in a Manchester school to play for Pescara in Italy's second division and admits it has been hugely beneficial.
"I play in a league which has been fully professional for 50 years and the Italians have been playing the sport since they were six years old, so it's been difficult, but playing at that level every week is fantastic," the 33 year-old told BBC Sport.
"People were surprised when I arrived because of GB's non-existent reputation in the sport, but it's a testament to how we've improved that we've now got 17 guys accepted in some of the top leagues in Europe."
However, playing away from home every week does have its downside for the Bristol-born player.
"I only got married last year and my wife has to stay here and work while I'm living in Italy, so that's always difficult, but it's our life this year.
"We're professional athletes and, while it's difficult to sacrifice your home and family life and learn a new language and culture, at the end of the day you're doing a job you love.
"It's a lifestyle choice at the end of the day - normal people wouldn't do it but we have to to try to get to the highest level we can.
"I'm probably fortunate that my wife was an international syncro-swimmer, so she knows the sacrifices you have to make to reach anything close to an Olympic level, although she's probably looking forward to when this finishes!"
Centre-forward Adam Scholefield has gone even deeper into the heartland of European water polo, furthering his education by moving to south-west Hungary to play for Pecs alongside team-mate Joe O'Regan.
The 26-year-old from Rotherham admits that arriving in the country which has won the last three Olympic gold medals was met with some raised eyebrows.
"At first I was seen as a British guy coming from a place with no real tradition in the sport, so it took me some time to earn some respect. Everyone wanted to test me out but after 18 months I think that's changed," Scholefield told BBC Sport.
"It's great to be in a place where people know what water polo is to start with - it's one of the main sports on TV every week and that sort of attention took some getting used to.
"Last season I was there on my own. There's been no shortage of sacrifices in this squad but the Olympics are our dream, so we had to do it. I play the sport I love and get paid for it."
Both Figes and Scholefield admit medals may be a distant prospect at London 2012 but for the players who have travelled across Europe to better themselves, earning respectability in a sport which has not even been on GB's radar for over half a century might be regarded as an achievement in itself.