European short course championships: British trio win medals
Last updated on .From the section Swimming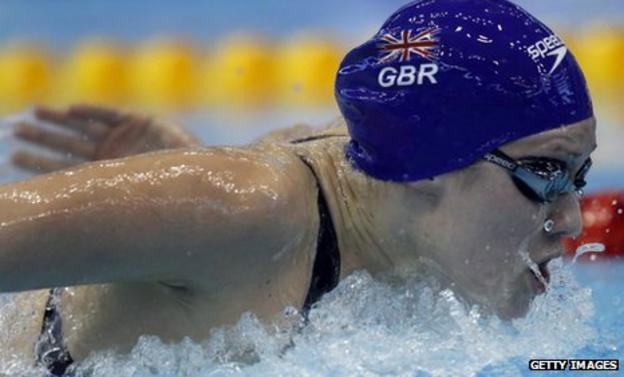 Jemma Lowe, Jessica Dickons and Hannah Miley all won medals as Great Britain enjoyed a strong first day at the European short course championships.
Lowe, a double finalist at the World Championships in Shanghai this summer, took silver in the 200m butterfly in Poland, with Dickons claiming bronze.
Miley also won bronze in the 200m individual medley.
Lowe said: "I'm really pleased with that. There are a lot of good fly swimmers in Britain at the moment."
Lowe was just a 10th of a second outside her British record as she stormed to silver in two minutes 04.04 seconds.
Miley clocked her fastest time in two years to take bronze in the medley in a time of 2:08.34.
"I'm so pleased with that, that's the fastest time I've done in a textile suit," said Miley, who is due to compete on every day of the championships.
"I'm not usually a speed demon and I have been working on that. What a great start to the week."
Dickons said: "It's been three years since I broke my personal best and I have done it a few times now, last week in Eindhoven and then today."
Adam Brown was Britain's fourth individual finalist, finishing fifth in the 50m freestyle - his fifth race of a busy opening day.