Lizzie Simmonds breaks European 200m record at Duel in the Pool
Last updated on .From the section Swimming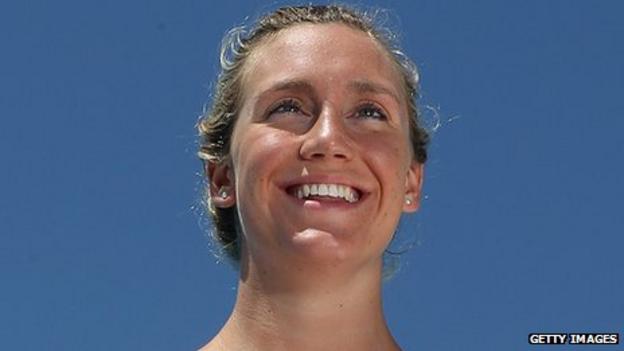 Lizzie Simmonds set a new European record in the 200m backstroke in the "Duel in the Pool" match against the United States in Atlanta.
Simmonds swam a time of two minutes 0.83 seconds but finished second, 0.69 seconds behind 16-year-old American Missy Franklin.
That was a rare high point for Europe as the US dominated, ending day one with a 93.5 to 28.5 points advantage.
Britain's Fran Halsall also finished second in the 100m freestyle.
Led by Franklin and long-time American stars Ryan Lochte and Natalie Coughlin, the Americans won 12 of the 14 events at the Georgia Tech Aquatic Center and are well on their way to staying unbeaten in the Duel series.
Europe's only wins came from Hungary's Katinka Hosszu in the women's 400m indiviual medley and Ranomi Kromowidjojo of the Netherlands in the women's 100m freestyle.
"Duel in the Pool" was launched in 2003 to boost interest in swimming during non-Olympic years but has mainly been an all-American showcase.
The US beat the Australians at the first three Duels and thrashed the Europeans two years ago.