Europe thrashed by United States in Duel in Pool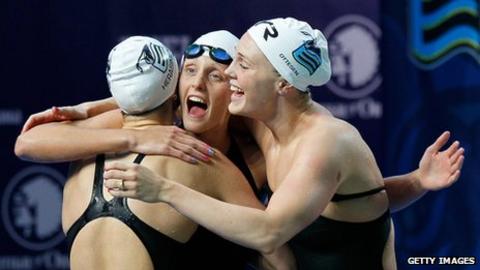 Britain's Fran Halsall helped Europe set a world best time but the United States wrapped up a convincing victory in the Duel in the Pool.
Halsall, Jeanette Ottesen, Aliaksandra Herasimenia and Ranomi Kromowidjojo won the 100m freestyle relay.
However, the time will not count as a world record because the swimmers were all representing different countries.
The Americans won 22 of 30 events for a total of 181.5 points. The Europeans finished with 80.5.
The European men struggled to put up a fight against the formidable Americans, as had been expected, but the women's team were more competitive.
Britain's Lizzie Simmonds set a new European record in the 200m backstroke on day one of the competition, and followed that up by winning the 100m backstroke in 56.82 seconds.
Gemma Spofforth finished sixth in 58.72 seconds, with 16-year-old American Missy Franklin third as Simmonds produced a brilliant swim.
American star Ryan Lochte said a message was sent with the London Olympics seven months away.
"This is just the start of it," said Lochte, who won the 200 individual medley. "We're the team to beat, there's no doubt about it."
The win for the US meant they have emerged victorious in all five Duels to date.