GB women's water polo set for tough Europeans
By Nigel Adderley
BBC Sport in Eindhoven
Last updated on .From the section Swimming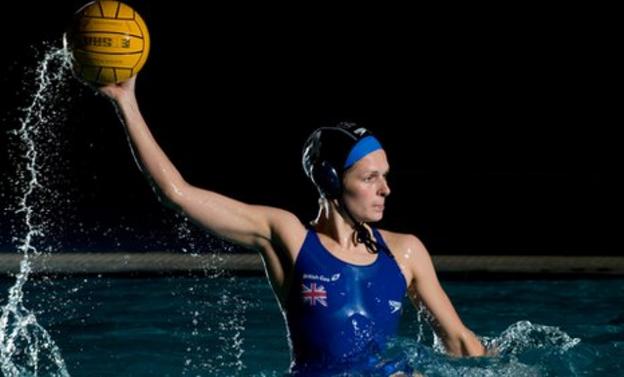 It is highly unlikely that the early morning swimmers ploughing up and down the slow lane or the ladies preparing for aqua aerobics in the shadow of the diving board knew they were sharing facilities at Manchester's Aquatics Centre with some of Great Britain's Olympic hopefuls.
But the nation's top water polo players are used to the anonymity.
Team GB have not even been part of the Games since 1956 and huge funding cuts three years ago seemed to ensure that the prolonged spell in the wilderness for the men's team would continue.
But the British Olympic Association has since seen sufficient improvement to allow them to compete in London and the women's team will warm up for London at the first European Championships having qualified for the first time in 15 years.
The 13-player squad travelled to Eindhoven on theback of an encouraging 2011 which included a shock victory over world champions Greece and some fine performances as a member of the Hungarian domestic league.
Team GB are in a tough group alongside Hungary, reigning Olympic champions the Netherlands and the current European champions Russia.
Captain Fran Leighton believes the tournament will be crucial to their Olympic preparations.
"It's such an exciting year - everyone in the country is thinking about the Olympics but we have to take it one day, one game, one event at a time so the Euros are fantastic," she told BBC Sport.
"It's a massive achievement to have even got there. It's a big jump from where we were but I think it's a great stepping stone towards the Olympics."
Leighton, who has led the team for eight years, also thinks the prospect of playing in London has been central to the squad's improvement.
"I think everybody who plays Water Polo in Great Britain just wanted the sport to be better," said the 28 year-old.
"Once the Olympics were confirmed there were more opportunities to raise our game. We need to provide water polo with a legacy and 2012 has sped up that process for us.
"One of my dreams for the Olympics is that water polo is viewed here as it is on the continent - how it's played, how it's represented.
"When we were in Hungary it was always on TV, everywhere you went people talked about it - there are even water polo restaurants. We may never get that here but hopefully this is our time to shine."
GB begin their campaign against Hungary on Wednesday, followed by Russia on Friday before they play the Netherlands on Sunday.