Water polo: GB fall to Russia at Euros despite improved showing
By Nigel Adderley
BBC Sport in Eindhoven
Last updated on .From the section Swimming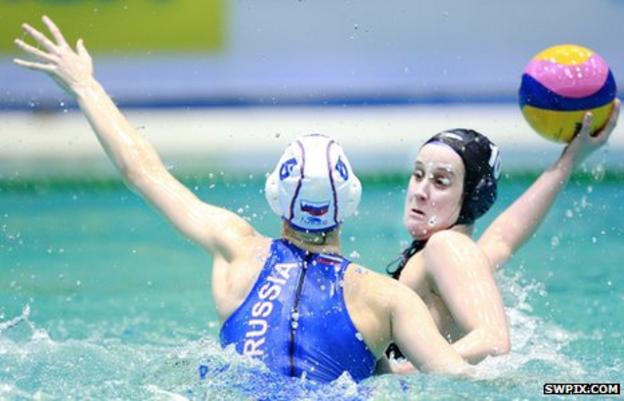 Great Britain's women produced a much-improved performance despite losing 15-10 to reigning champions Russia in their second match at the European Water Polo Championships in Eindhoven.
After appearing to lack match sharpness in their 19-9 loss to Hungary on Wednesday, which followed a four-month break, they opened the first quarter in bright fashion, twice taking the lead through Angie Winstanley-Smith and captain Fran Leighton before the Russian's greater quality took over.
By half-time the champions had opened a 9-4 lead but Szilvester Fekete's team did not crumble and, with goalkeeper Rosie Morris in outstanding form, in the third quarter they outscored the side that has dominated European waterpolo in recent years 3-1.
Morris, who almost missed the match at the Pieter van den Hoogenband Stadium due to flu, was able to reflect on a far more positive display.
"We've spent plenty of time since the Hungary game working on our defensive shape to try and ensure we didn't make the same mistakes," she told BBC Sport.
"I still don't think we played as well as can but it was so much better.
"Russia are always ranked highly and I think they came into this match expecting an easy one - in the warm-up they didn't look like they really cared so we thought we'd try and show them we can be competitive with them, and I think we did that."
Great Britain conclude their group fixtures in front of a sell-out crowd against the hosts and Olympic champions Holland on Sunday and the Birmingham-born keeper is looking forward to it.
"It will be brilliant - I love it when the crowd are all against us. The last time we played them it was really close so I'm hoping we can build on our improvements in the Russia match."