Water Polo: Team GB and Fran Leighton hope to shock Holland
By Nigel Adderley
BBC Sport in Eindhoven
Last updated on .From the section Swimming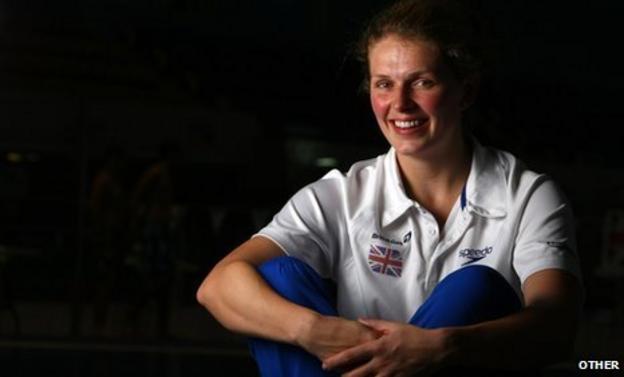 Fran Leighton believes Team GB can shock Holland in the women's European Water Polo Championship on Sunday.
"It's going to be a great occasion and really exciting," she said ahead of the game against the Olympic champions.
"If we can maintain the progress we showed against Russia, who knows what will happen?"
Both GB and Holland are yet to record a victory in this year's European Championships, but the winner of Sunday's game will progress to the quarter-final as the third-placed team in Group A. They will be joined by the group's runner-up, with the group winner progressing straight to the semi-finals.
The championships in Eindhoven will help the women's water polo team prepare for their return to the Olympics after 56 years, with their home for those two weeks in London a 5,000-seat stadium especially constructed for the Games.
The teams will be backed by a fervent home support when the events begin on 29 July at Olympic Park, but the women's squad will experience a partisan crowd against them when they face Holland on Sunday.
Thousands of orange-clad followers have brought the Pieter van den Hoogenband Stadium to life when the host nation has taken to the pool, though their enthusiastic supporters could not prevent a dramatic 9-8 defeat by Hungary on Friday night.
It contrasts with the handful of spectators who have watched Team GB's matches during the tournament. Team GB were beaten 15-10 by Russia in the game that preceded the Dutch match, but those few supporters in attendance will have been impressed by the British women's second-half comeback.
Great Britain looked to be heading for a thumping defeat when the Russians opened up a 9-4 half-time lead, but they fought back impressively to match their more illustrious opponents in the closing stages. In the third quarter they outscored by three goals to one the side that has dominated European water polo in recent years.
"We were obviously disappointed not to win but it was a fantastic performance - everybody was 100% from start to finish and it was just a shame we didn't quite do enough to win," Leighton told BBC Sport.
There was a marked improvement from the tentative performance in Wednesday's 19-9 defeat by Hungary, a result which Leighton attributes to a lack of match sharpness.
"We needed to get a game out of our system, to be honest," she said. "We haven't played much competitively coming into this, and unfortunately the Hungary game ended up being a bit of a warm-up for us.
"The squad just needed a few days to think about things. Against Russia the tactics were spot on and we were a disciplined unit. It was only the woodwork and some midfield errors which left us vulnerable to counter attacks which prevented it being even closer."