Water Polo: Holland beat Great Britain in Euro Championships
By Nigel Adderley
BBC Sport in Eindhoven
Last updated on .From the section Swimming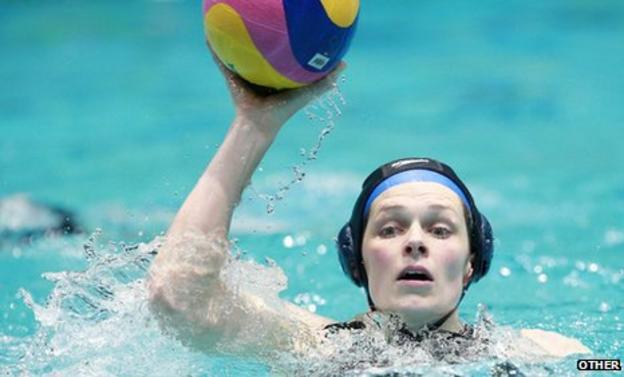 Great Britain's women gave Olympic champions Holland a scare before losing 12-6 in their final group game at the European Water Polo Championships.
Both teams knew victory would take them into the quarter-finals and GB silenced a partisan crowd in Eindhoven with an excellent start to the game.
Ciara Gibson-Byrne opened the scoring with a delicate lob after 21 seconds and a shock looked to be a possibility when Szilveszter Fekete's team led 3-1 early in the second quarter.
However, the Dutch began to justify their reputation as one of the favourites for both this competition and London 2012 by scoring three goals in quick succession to take the lead for the first time.
The tournament's leading scorer Iefke van Belkum completed a hat-trick in the final second of the first half to put the hosts 6-5 ahead.
With the home team appearing to benefit from a number of refereeing decisions, Van Belkum added two more in a third quarter that Holland dominated to open up an unassailable lead.
Great Britain coach Fekete believes the referees may have been influenced by the noisy 2,000-strong home crowd at the Pieter van den Hoogenband Stadium.
Team GB suffered 13 explusions during the match - when a team have to play a player short for 20 seconds - compared to only six for the home side.
"You don't just get pressure off the opponents in situations like this. Pressure comes from the crowd, pressure comes from the referees and we're learning to deal with that," he told BBC Sport.
"It's normal - the Holland team are Olympic Champions playing at home having lost their opening two games and their qualification for London was in question if they didn't beat us.
"I don't think the referees make mistakes deliberately but psyschologically maybe they give a bit more. The penalty count was very low when we were winning."
Great Britain captain Fran Leighton felt that the final outcome was harsh on her team.
"The scoreline doesn't reflect how the game went," she told BBC Sport.
"We worked so hard in there and the only difference between us in the first half was a flukey goal in the final second - we really didn't get what we deserved at all.
"Van Belkum is a world-class player but I don't think anyone was embarrassed in our team against her, which shows how close we are to being world-class ourselves.
"It was a fantastic atmosphere which seemed to really help them, so roll on London when the crowd will be on our side."
Great Britain finish bottom of Group A after losing all three matches and will play off for 7th/8th place with Germany on Tuesday.
Great Britain will also be involved in a four-team tournament at London's 5,000-seater Olympic stadium in May.