Joanne Jackson ready for London Olympic trials
Last updated on .From the section Swimming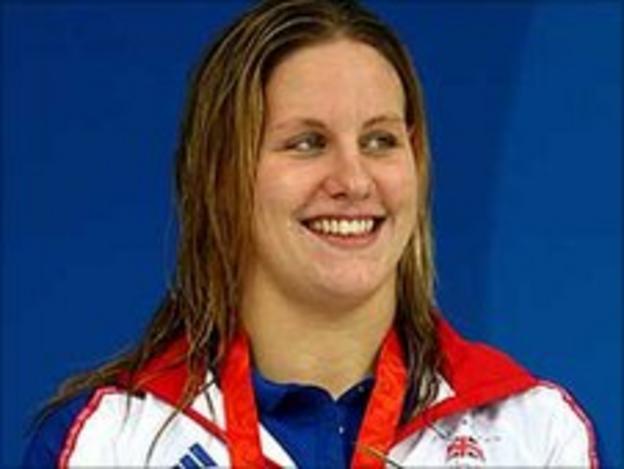 Olympic bronze medallist Joanne Jackson believes she is getting back to form ahead of the London 2012 trials.
Jackson, from Richmond in North Yorkshire, was third in the 400 metres freestyle in Beijing in 2008.
She has since suffered with health problems but she told BBC Radio York she is now fully fit again.
"Things are going really well and I'm really enjoying it at the moment and I'm looking forward to Olympic trials now," she said.
Jackson struggled with severe asthma attacks that caused her form to suffer.
She continued: "I went through a really bad phase. My asthma went really bad and I had weak ribs at the time.
"I did have a tough couple of years but I always think if you have an easy swimming life it's good to have something that makes you focussed.
"It makes you want it more. I look back and think I can learn a lot from it.
"Training is going really well. I've just come back from a four week training camp in Florida which went really well.
"We've got another three of four weeks to go of hard training and then we start tapering down for the trials and then we race."
Like many British athletes the 25-year-old is relishing the prospect of competing in a home Olympics: "You never expect the Olympics to be in your home country and now it's actually happening and it's finally here, everyone is so excited.
"It's amazing going to the Olympics anyway but it's going to be so nice knowing there's thousands of people watching and almost all are there to support Team GB.
"I don't feel like there is any more pressure. There's only as much pressure as you put in yourself and it doesn't matter what meet you go to you always want to swim your best and improve on what you've done.
"We've put in four years of hard training since the last Olympics. Hopefully going there it will all pay off."