London 2012: Vacuum injury 'focuses' Anne Bochmann
Last updated on .From the section Swimming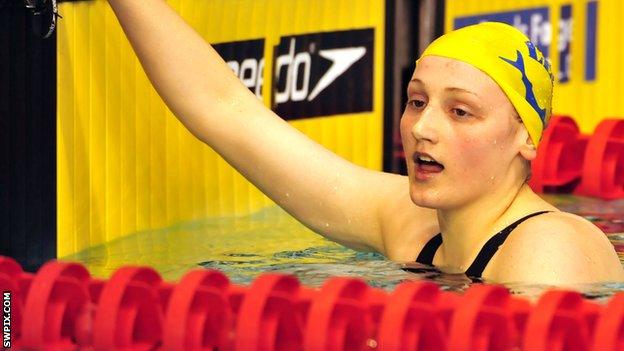 British swimmer Anne Bochmann will concentrate on qualifying for London 2012 in the freestyle, after a vacuuming injury ended her medley bid.
The 18-year-old will compete in the 200m and 400m freestyle at this weekend's British trials.
She could well have been entering the pool in the medley as well, had she not exacerbated a back injury.
"I did some Hoovering in January and it kind of aggravated it again," she told BBC Radio Norfolk.
"It was really frustrating that it was something so little that had sparked it up. But it's definitely focused my training onto freestyle.
"It's a shame not to be doing the medley work but hopefully I'll come back to that in the future. But it wasn't worth the risk pushing it and not being able to work at all.
"There's no Hoovering allowed now. I'm not at all upset about that."
Bochmann has slowly moved away from the medley since securing fourth-place finishes in the 400m freestyle at the 2010 British Championships and later the Commonwealth Games in Delhi.
And at the upcoming trials in London 2012's Aquatic Centre, she will need to finish in the top two among a field consisting of double Olympic champion Rebecca Adlington and two-time world silver medallist Jo Jackson to secure a place in Team GB.
"I'm going to try and think of it as just another British champs," explained Bochmann, who is also in the running for a 200m relay berth.
"I've done so many, one every year since I was 11, so I'll think of it like that rather than think of it being the Olympic trials for London.
"It's been my dream for so long, but if you put a ridiculous amount of pressure on it doesn't work."