British Swimming Trials: Rebecca Adlington says failure "scary"
Last updated on .From the section Swimming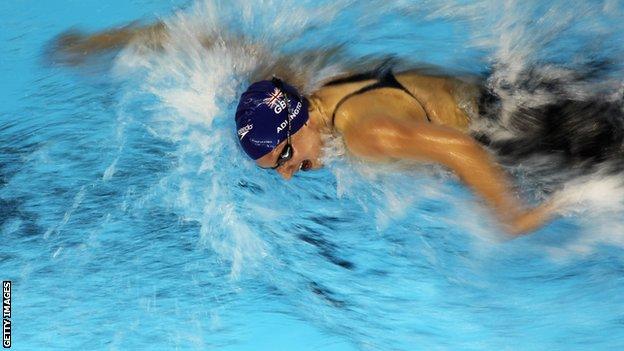 Rebecca Adlington says the prospect of failure at the British swimming trials is "scary" as she prepares to try and secure a place at the London Olympics.
Adlington will be among those looking to earn Olympic and Paralympic Games places when the trials, which double as a test event, begin on Saturday.
"I'm so worried it's unbelievable - the amount of weight on my shoulders is killing me," she told BBC Sport.
"It's just going to be such a relief if I do make it."
To guarantee a place at the Olympic Games, swimmers need to finish in the top two in their event and also make the 'A' standard time set by British Swimming.
The likes of Adlington and 50m backstroke world champion Liam Tancock must see off challengers from across the nation if they are to make it to the Games.
Adlington is the reigning Olympic champion in the 400m and 800m freestyle, and will try to qualify in the 4x200m freestyle, but she expects to face a serious challenge just to make the British team this time.
"I'm in two very, very tough events and I'm not stupid, I know there are going to be younger girls coming up, everybody's wanting to beat me," added Adlington.
"You have to do it on the day, that's the most scary thing. If you get ill or just fall over the day before and pull something then you've obviously got a tough race on your hands. You've only got one opportunity to do it - eight girls all going for two places and a time - it is a scary thought."
Should the criteria not be matched by two swimmers in each event, there will in fact be a second chance to make the British team at the ASA National Championships in Sheffield from 20-23 June.
Michael Scott, the national performance director for British Swimming, told BBC Sport: "There's so much more pressure on swimmers to make the team [in Olympic year] that we have to re-focus them after the trials to make sure they have that same commitment and passion for the Games.
"We don't want tourists - we don't want to issue any Olympic tourist visas - we want our swimmers going there at their peak in London in July and at the best of their ability."
The British team had a successful World Championships in Shanghai last year, with Adlington winning the 800m title, raising hopes of a clutch of medals for the team this summer.
"There's always going to be pressure leading into the Games but I'm more excited," said Adlington. "I'm really looking forward to it. I hope I qualify - that's the biggest thing, I just want the chance to go and race at my home Games.
"I think everyone wants that opportunity and everybody wants to be there. We're all fighting for it."
The GB Paralympic swimming trials run from 3-9 March, alongside the Olympic trials, and are the first chance swimmers have to reach the qualifying standards for London 2012. The second and final opportunity will be in Sheffield from 6-8 April.
Among those competing in London will be Paralympic champions Ellie Simmonds, Sascha Kindred, Liz Johnson and Heather Frederiksen.
Dave Roberts, who is hoping to break Baroness Tanni Grey-Thompson's record of 11 Paralympic gold medals in London, has withdrawn through illness but hopes to make the second trials in Sheffield.