Robbie Renwick eyes Olympic dream double
Last updated on .From the section Swimming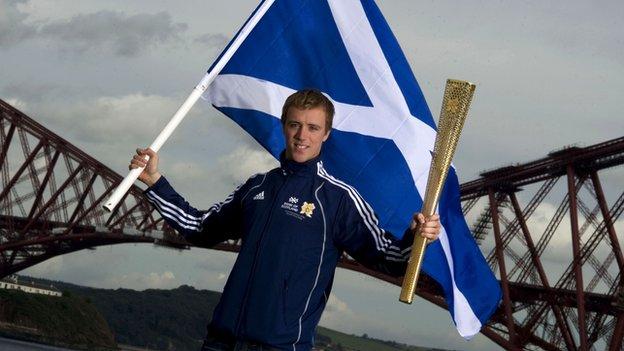 Commonwealth gold medallist Robbie Renwick believes he is in the shape of his life to realise his Olympic dream.
The 23-year-old is one of the top Scots involved on the opening day of the British Swimming Championships at the Olympic Aquatic Centre.
"I've got a quite heavy programme," he said of the Olympic qualifying event.
"I am on from Saturday all the way through to Wednesday, but I've done all the training and I'm in the best shape of my life."
Renwick won his Commonwealth gold in the 200m freestyle but is hopeful he can also qualify at two distances.
"The 200 is my main event," he admitted to BBC Scotland. "The 400 is always a bit of a stretch for me, but I've done the training and I'm feeling good about the 400 now.
"I'm well within capabilities of doing that. It is going to be a close race, but I am sure, if I swim my best, I'll get there."
Renwick realises there is great depth in his events among British swimmers and sees Ross Davenport and fellow Scotsmen David Carry and Jack Scott as his main challengers.
"I have the greatest respect for the other guys, but I'm staying quitly confident," he said.
"I'm just going to give it my best shot. I've been training for this for the last four years and I'm going to make sure I'm in the team.
"I am feeling quite calm, which is always a good sign.
"I have complete confidence in all the training I've done over the past six months and I am really looking forward to racing now."
As well as Renwick and Carry, the Scots have a third Commonwealth gold medallist competing on the opening day, with Hannah Miley looking to qualify for her second Olympics in the 400m individual medlay.
Renwick thinks the new London venue will ensure some fast times as the swimmers aim to make this summer's Games by being in the top two in their event and reaching the qualifying times.
"It is absolutely fantastic, the building's just phenomenal and the pool is super quick," he said.