Gemma Spofforth secures place at the London 2012 Olympics
By Nick Hope
BBC Olympic sports reporter at London's Aquatics Centre
Last updated on .From the section Swimming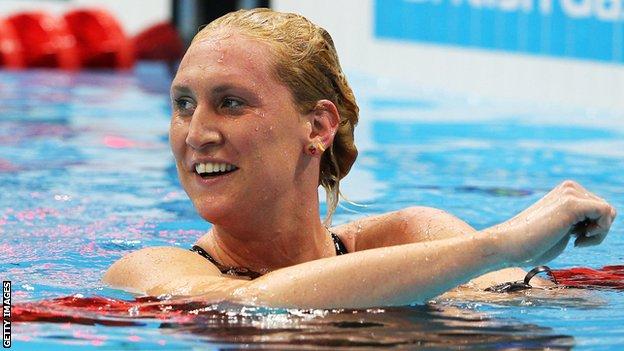 World record holder Gemma Spofforth sealed her place at London 2012 with a stunning final length in the British Championships 100m backstroke final.
The 24-year-old, who almost quit the sport after a difficult world championships last summer, powered her way to victory over Georgia Davies.
Liam Tancock, Robbie Renwick and Kate Haywood also claimed Olympic berths.
"I wanted to give it everything I had because it was going to be one of my last races," Spofforth told BBC Sport.
"If I hadn't done it, it would have been my last 100m ever."
Davies's second place at the Olympics Aquatics Centre in Stratford also secured her a spot in the Great Britain team.
But the biggest surprise of the evening came in the same event, as pre-race favourite Lizzie Simmonds finished third to miss out on an Olympic place.
"I'm speechless," said a slightly stunned Davies, who admitted: "It's been my dream but I never thought it would happen.
"I've always looked up to Gemma and Lizzie and I can't believe I'm part of that now."
European champion Simmonds said: "I'm feeling a little bit gutted now but I'll come back and smash it up in the 200m."
Tancock was as dominant as expected in the men's 100m backstroke.
The 50m world champion qualified clear of his rivals, despite easing through the semi-finals and, in finishing in 53:16, he confirmed both his status as Great Britain's number one and as a strong contender for honours at the Games this summer.
"I'm really pleased with that," Tancock told BBC Sport. "I came here to try and get the time and did that, so it's job done.
"Now I need to go back, focus on training and get faster for the Games."
Day three of the British Swimming Championships also saw 25-year-old Haywood justify her decision to move to Australia, where she has been training with world champion Leisel Jones.
Haywood, who failed to qualify for last year's world championships and is planning to retire from the sport after the 2012 Games, won the women's 100m breaststroke in a time of 1:08:07.
"This morning people said 'send those kids back to the kindergarten' and that's what I did," said Haywood.
"I'm getting on a bit now, but I've put so much into it and I'm so pleased to be going."
Scotsman Renwick became the first GB swimmer to attain Olympic places in two events, following up his 400m freestyle victory on Saturday with another in the 200m final.
"It's a fantastic feeling again," said Renwick. "I know I can go faster though and the hard work starts now."
Ieuan Lloyd was second to Renwick, but 0.31 seconds outside the time required by British Swimming to qualify for the individual event. The Welshman, though, is guaranteed a place in the 4x200m relay team and has other opportunities to secure the individual qualifying time.
In the evening's multi-classification disability swimming finals, three-times Paralympic gold medallist Matthew Walker won the men's 50m freestyle final.
His time of 28:37 meets the qualification standard for the 2012 Paralympics but he will still need to compete at the second trials in Sheffield in April to confirm his place at the Games.
Beijing silver medallist Louise Watkin is in a similar position after claiming victory in the women's equivalent, in 29:30, ahead of Heather Fredriksen and Stephanie Millward.
"It's the fastest I've swum since the 2010 world championships which feels great," said Watkin.
Amongst the highlights on day four will be the men's 100m and women's 200m freestyle finals.