David Davies secures third Olympic appearance
Last updated on .From the section Wales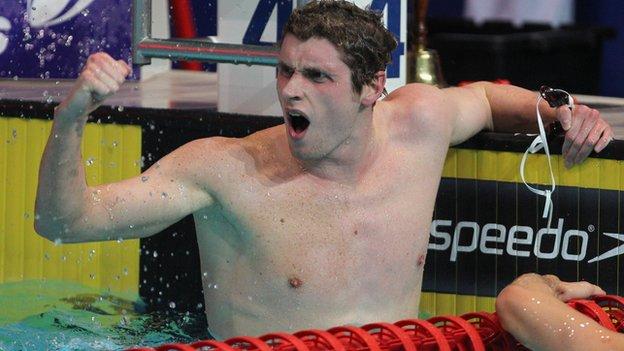 David Davies has become the fourth Welsh swimmer to secure a place in the Great Britain team for the 2012 London Olympics.
The 27-year-old finished second in the 1500m at the British trials on Saturday to join compatriots Jemma Lowe, Georgia Davies and Ieuan Lloyd in the GB team.
Davies could also aim for selection in the open water event, which will be decided in June.
"I've got to be happy really," he said after almost breaking 15 minutes.
"I would have taken that in the summer last year when I was a little out of sorts and I've made the Olympics here which is what I wanted to do."
Davies, who won bronze in the 1,500m in his first Olympics in 2004, has recovered from fatigue problems to reach his third Olympics.
"Fifteen minutes is not a bad performance, it's a good marker, it's not where I want to end up ultimately, I'd like to go faster in the summer," he said after clocking 15 minutes 00.73 seconds.
"But the goal was to qualify and I've done that so now I can look forward and I'm just so glad to say that."
Daniel Fogg won the 1500m race as he became only the third Briton after Davies and Graeme Smith to go inside the 15-minute mark when he won in 14 minutes 55.30 seconds.
The first Welsh swimmer to qualify for the 2012 Games was Lloyd, who secured a place in the 4x200m relay squad after finishing second to Robert Renwick in Tuesday's 200m freestyle final.
He finished 0.31 seconds outside the time required by British Swimming to qualify for the individual event but will have another opportunity to make the grade in June's ASA Championships.
Welsh-record holder Jazz Carlin will also require a good performance at the ASA Championships if she is to qualify for her first Olympics.
The 21-year-old, who won 2010 Commonwealth silver and bronze medals in the 200m and 400m freestyle events, missed out on Olympic qualification at this week's British Championships in London.
Carlin was fourth fastest qualifier for Friday's 800m final, however, she was forced to withdraw from that final due to illness.
Davies qualified for the Olympics after finishing second just behind world record holder Gemma Spofforth in the 100m backstroke final.
The 24-year-old, a 50m backstroke bronze medallist at the 2010 Commonwealths, will be making her Olympic debut.
Lowe joined Swansea Performance team-mate Davies at London 2012 on Wednesday as she finished second at the 200m butterfly final.
She set the second fastest time in the world this year of 2.06.37 seconds while finishing behind Ellen Gandy.
"It has been an emotional week," said Lowe, qualifying for her second Games.
"Before the race at one stage I thought I was going to faint or pass out so I had to go to stand away in the corner somewhere as I needed to relax.
"It has been a big problem for me getting too nervous and too excited."