Fran Halsall claims third Olympic place with 50m freestyle win
By Nick Hope
BBC Olympic sports reporter at London's Aquatics Centre
Last updated on .From the section Swimming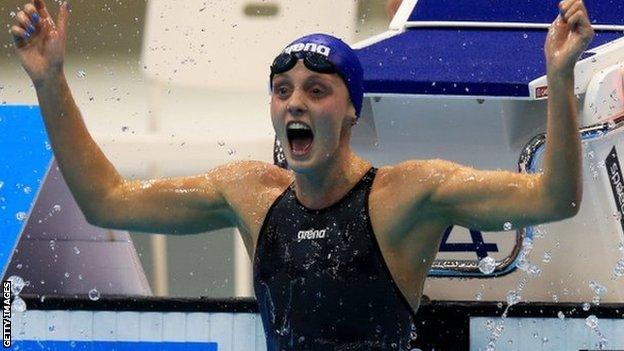 British record holder Fran Halsall swam the fastest 50m freestyle in the world this year on the final night of the British Swimming Championships.
Halsall clocked 24:13 seconds to seal her third Olympic qualification place, after 100m freestyle victory and 100m butterfly silver earlier in the week.
Amy Smith took the second 50m freestyle spot, while Daniel Fogg and David Davies secured 1500m places.
"I just exceeded all of my expectations really," Halsall told BBC Sport.
"I knew my 100m fly didn't do me justice earlier in the week but I've just swum pretty much the fastest I've ever gone so that's amazing and I'm gobsmacked.
"I want people to come to Britain this summer and think, 'If we want to win against Fran we're going to have to swim fast', and I've definitely done that now."
Smith, 24, grabbed silver in 24.80 seconds, securing her second place at the London Games.
"I'm really pleased," she said. "My aim coming into this was to swim sub-25; I've done that and it seems to be my meet at the moment."
In the men's 1500m final, two-time Olympic medallist Davies entered as the quickest qualifier, but it was Loughborough's Fogg who powered to victory in 14 minutes 55.30 seconds.
Davies, who finished in 15:00.73, will join Fogg at the Games after finishing well inside the qualification standards himself.
"Getting that time was unbelievable and I'm ecstatic," Fogg told BBC Sport.
He also paid tribute to former Loughborough team-mate Davies, who nearly quit the sport last year after being diagnosed with chronic fatigue.
"I owe such a lot to Dave," said Fogg. "I worked with him for two years and he taught me how to work hard and that's pushed me on so much.
"We are such good mates and I've been through it all with him and felt his pain and to do what he's done after what he's been through is just amazing."
In addition to securing Davies a place at London 2012 in the men's 1500m event, his second-placed finish is also likely to be enough to gain him nomination for the final Olympic open water qualification competition in Portugal in June.
"It was a tough race - I haven't been in that kind of race for a while," said Davies.
"I've got to be happy really. I would have taken that in the summer last year when I was a little out of sorts and I've made the Olympics here which is what I wanted to do."
for this summer's Olympic Games following the trials in London.
There will be a second opportunity for swimmer in events where two people have not been able to achieve the qualification standards this week - that will come at the ASA National Swimming Championships in Sheffield in June.