GB Olympic trials: Pickering & Parry on stars & surprises
Last updated on .From the section Swimming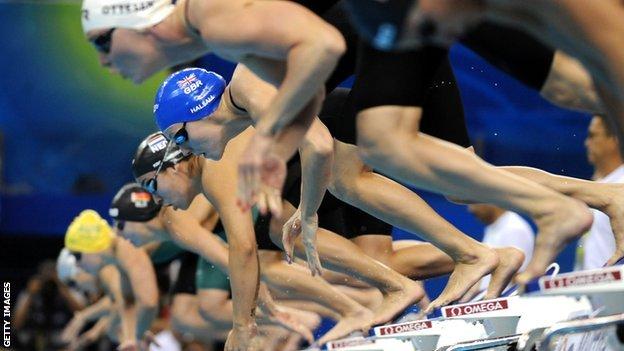 Britain's swimmers took a major step towards this summer's Olympic Games when 38 confirmed their places on Team GB at the trials in London last week.
Former world champion Karen Pickering and Olympic bronze medallist Steve Parry were poolside with BBC Sport throughout the week and gave us their thoughts on whom to watch out for in August.
Performer of the week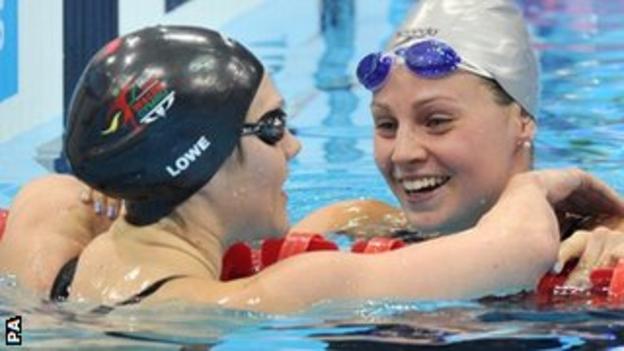 Parry: "I really like the look of Ellen Gandy. She is one of our best hopes for a medal come the Games but she kind of messed up her 200m fly swim, probably because of nerves. She wanted to make sure that she got there, but to be two seconds under world record pace at the 100 shows she has the speed. If she can sort out the back part she could be sensational in five months' time.
"Although I'd pick Gandy out, there is also Hannah Miley, Lizzie Simmonds, Fran Halsall and Becky Adlington. I think we're the third-best women's team in the world after the Americans and the Australians."
Pickering: "The stand-out for me was probably Rebecca Turner in the 200m freestyle. She won it, did a personal best time, a qualifying time, and it's great to see the next generation of freestylers coming through.
"I think she can still improve a lot before the Olympics. She'll be on a relay team with established swimmers when they're on training camps. For some of the younger athletes, that will be a really big help because they won't be on their own. They'll have that moment when they're all rooting for one another and I think as a younger swimmer that will help."
The surprise package
Parry: "It was between Rebecca Turner, Ellie Faulkner and Craig Benson - and I'd go with Craig Benson because the men's 100m breaststroke was stacked with good quality competitors. You had four or five people in there but he's a racer. He came through to beat a lot of favourites and he's going to the Olympic Games as an exciting prospect. I always think with young guys, who knows what they can achieve?"
Pickering: "Sophie Allen was incredible. I'm so pleased she made it onto the team with the help of Hannah Miley dragging her along in the 200m. And Craig Benson was one of the biggest surprises in the 100m breaststroke. He's only 17 and big things are to come from him."
Home advantage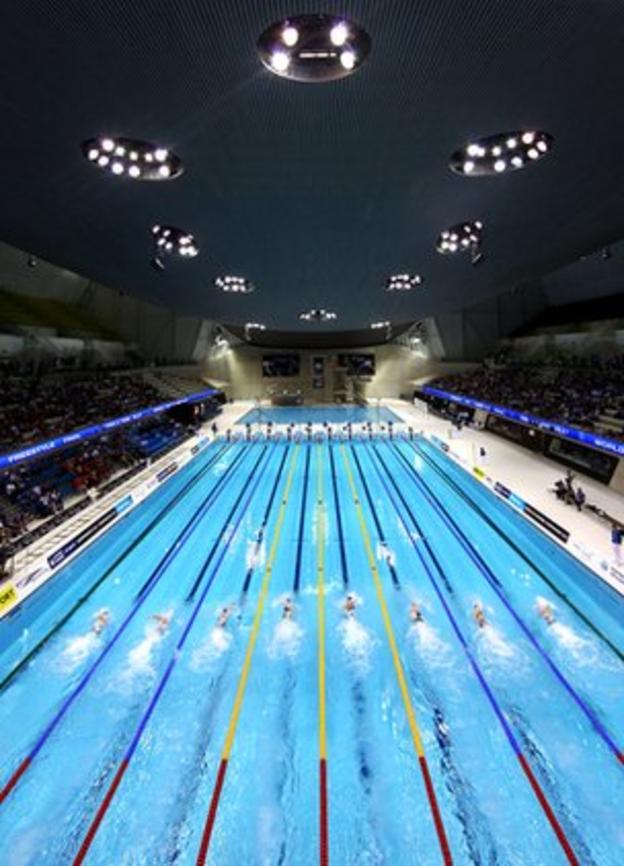 Parry: "The aura of walking into an Olympic Park has given everyone a lift and in the summer there will be 17,500 people in this confined environment, in such an inspirational structure... wow!
"Throw in the Australians and the Americans and all the other swimmers from around the world, and I think you've got a recipe for what will be one of the best swim meets ever."
Pickering: "There are going to be a few athletes who will find it overwhelming. I stood poolside when all the seating was open - there were no lane ropes in, but standing by lane four I could not believe what that felt like - and they were empty seats!
"So there are going to be some swimmers who will walk out and it will be too much, but for the majority they are going to soak that up and absolutely love it. The likes of Fran Halsall will be in their element."
Medal hopes for the summer
Parry: "I think we've got a chance of a hatful at the Olympics but there's no way you're going to convert them all into actual medals. Hopefully with the crowd, the pool, the home-town support, I don't think seven medals is out of the question.
"I was saying six the other day, but I saw Lizzie Simmonds in the 200m backstroke again and she had loads of speed. If she can do really well on the second half of her race, she might be in with a shout as well. I predict three golds, two for Becky Adlington and one for Ellen Gandy."
Pickering: "I hate to pick numbers but I think six, the same as Beijing in 2008, is a realistic goal and I think we could possibly be looking at three golds, especially if you include Keri-Anne Payne in the open water."
Parry & Pickering on....
Rebecca Adlington (400m & 800m freestyle): Parry - "A lot of people tell me I'm crazy but I have the ultimate confidence in Becky Adlington and I think she will do the 400m and 800m double again. I just think the experience she had at the trials with the media attention that she's getting is going to count for so much when she goes back to the training pool and starts to think through her racing plan."
Liam Tancock (100m backstroke): Pickering - "You can get a bit misled because he's so far ahead of everyone in the 50m that no-one will catch him up. I do think if there's ever a chance that he's going to hang on in the closing stages of the 100m, it's going to be with 17,000 people cheering him on."
Keri-Anne Payne (open water 10K): Parry - "She is head and shoulders above everyone else in the open water and just needs to be in good form to vie for the top honours. I just hope that she can feel part of the swimming team. Knowing her as a person, sticking her off on her own rather than in the village is not going to do her any favours at all, so hopefully she can get access to the swimming pool and then go off and do her thing in the open water."
Fran Halsall (100m butterfly, 50m & 100m freestyle): Pickering - "I think the 100m free is her best shot. She's got the speed, but she's such a fighter too and if she can see anyone close, she'll hunt them down and take them. The 50 is so close every time at an Olympics that it's tough to call, but she's going to have a chance at two medals."
Joe Roebuck (200m & 400m individual medley, 200m butterfly): "He had a go at me because we did these silly predictions in the competition programmes saying who was going to come first and second - I did underestimate him by putting him down for silvers in everything, but he won the 200 fly and he won the 200IM. At the Olympic Games, hopefully he can get in the 200IM final with James Goddard as well."