Ian Thorpe puts London 2012 hopes on line at Australian trials
Last updated on .From the section Swimming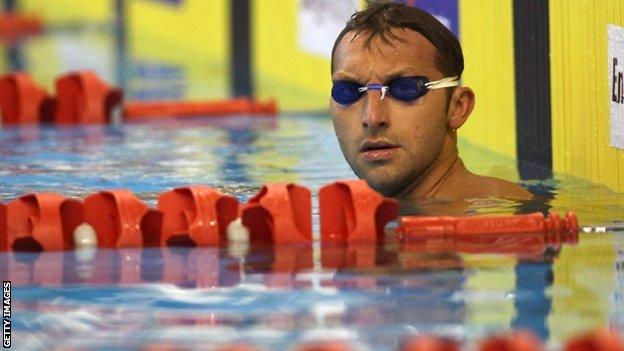 Ian Thorpe faces the decisive moment in his bid to compete in a third Olympic Games at this week's Australian trials.
The five-times gold medallist will compete in the 100m and 200m freestyle, beginning with Friday's 200m heats.
Thorpe, 29, came out of retirement last year but has struggled to post competitive times in his races so far.
"It's been bloody frustrating that I've trained the house down. I thought it would translate into good racing and results," said Thorpe.
"It hasn't happened and that has tested my mental strength and my patience. I truly believe my hard work deserved better. I'm hoping my racing mojo returns for Adelaide."
The Australian selection policy sees the top two from each event in Adelaide given Olympic places, with no second chances, while Thorpe would need a top-six finish in the 100m or 200m events to make the relay teams.
James Magnussen, Australia's first world champion in the 100m freestyle, believes Thorpe is unlikely to qualify in one of the two individual places in the sprints and might have to hope for a relay spot.
"I think he'll be up against it," said the 20-year-old. "It's a strong field and, from his perspective, if I was here making a comeback as he is I would think making the 100 freestyle final is a big achievement.
"It's been great for the sport as it's been able to push the rest of us along, make us fight for those extra positions. I think he'll have achieved something, if not for himself, then the sport, if he can reach that final.
"I think I see it more as, if he is in the final, if he makes the relay, it's a little bit of a surprise but it's also a massive bonus to have someone with that experience and a calm head of a team."
However, Australia's head coach Leigh Nugent - who has had to defend Swimming Australia over the funding given to support Thorpe's comeback - is not ruling out the 11-time world champion springing a surprise.
"I think with someone like Ian, the history he's got and knowing his competitive capabilities, you could never write him out of the equation," said Nugent.
"I've been around a long time and I've had a lot to do with Ian and with swimming at this level for almost two-and-a-half decades and with him, you've got to expect for him to pull something out of the bag. He just has that sort of ability."
Thorpe won three gold medals at the Sydney Olympics in 2000 and two more in Athens four years later, to add to the three silvers and a bronze he collected at those Games.
He is not the only great Australian name making a comeback, with Libby Trickett, Geoff Huegill and Michael Klim among those trying to qualify for another Olympics.
Olympic 100m breaststroke champion Leisel Jones, 26, hopes to become the first Australian swimmer to compete at four Games, while triple Olympic gold medallist Trickett, 27, is trying for a third Games after retiring in 2009.
Stephanie Rice, a reigning triple Olympic champion, is fighting back from shoulder surgery to try to make the London team and will be in action in the 400m individual medley on Thursday's opening night, with Alicia Coutts likely to provide strong opposition.
But all eyes will be on Thorpe at the 3,000-seat venue, with the swimmer himself trying play down the expectation that surrounds him.
"The most realistic outcome of this is that I will most likely fail," he said. "I wish I had another six months to do this."