London 2012: Stephanie Rice qualifies at Australian trials
Last updated on .From the section Swimming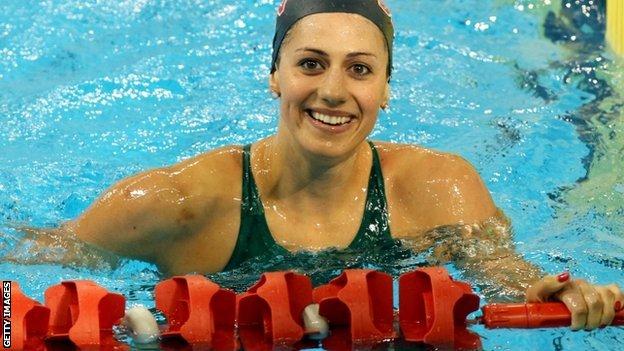 Olympic champion Stephanie Rice became the first Australian swimmer to secure a place at the London Games with victory at the national trials.
Still recovering from a shoulder injury, Rice posted a strong time of four minutes 33.35 seconds in Adelaide.
Ian Thorpe, who came out of retirement last year, begins his bid for a place in London with Friday's 200m heats.
The five-times gold medallist, 29, will compete in both the 100m and 200m freestyle at the Australian trials, with the top two in each event earning individual places and the top six making the relays.
Blair Evans finished runner-up in the 400 medley on Thursday to seal her place at London, although she was more than four seconds behind Rice, who also holds the 200m individual medley Olympic title.
"It's been one of the toughest preparations I've ever had and I'm just so thankful to have qualified," Rice said.
"[The shoulder tendon] is still torn, which is why I've had a bit of trouble with it. If I can get a good block [of training] in the lead-up to London that's going to give me a bit of confidence."
Rice's time was marginally slower than the 4:32.67 set by Hannah Miley in winning the British trials last week.
Libby Trickett, one of several former Australian champions returning from retirement, could only finish sixth fastest in qualifying for the 100m butterfly final as she looks to defend her Olympic title.
David McKeon won the 400m freestyle in 3:46.36, with Ryan Napoleon taking the second place for London, while Thomas Fraser-Holmes set an Australian record as he won the 400m individual medley in 4:11.81 ahead of Daniel Tranter.