Ian Thorpe fails to reach 200m freestyle final at Australian trials
Last updated on .From the section Swimming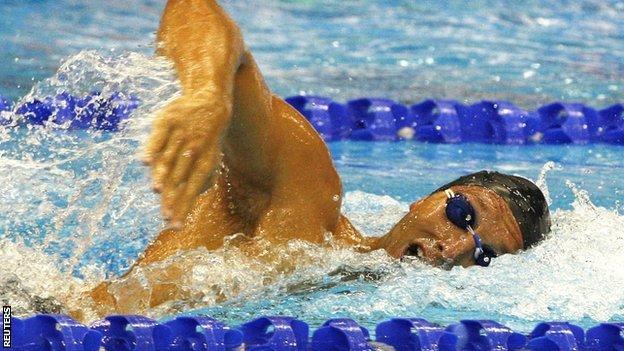 Ian Thorpe's hopes of securing a place at the London Olympics suffered a blow as he failed to make the 200m freestyle final at the Australian trials.
Thorpe, 29, is competing in the 100m and 200m freestyle, but could only finish 12th-fastest in the 200m semis.
"The fairytale has turned into a nightmare," said Thorpe, who came out of retirement last year.
He will now focus on Sunday's 100m heats but is expected to find the shorter sprint an even tougher task.
The Australian selection criteria sees the top two finishers in each event in Adelaide take the individual places for London, with the top six making the relays teams.
Thorpe had struggled to post competitive times since returning to the pool last November but there had been encouraging signs for the five-times Olympic gold medallist when he set the fifth-fastest time in the heats of one minute 49.16 seconds.
However, a slower time of 1:49.91 in the semi-finals left him down in 12th place, with Ryan Napoleon the quickest of the eight qualifiers in 1:47.51.
"I am terribly disappointed with that, I thought I could and thought I would swim a lot quicker, much quicker," said Thorpe, who set a then world record of 1:44.06 in the 200m freestyle in 2001.
"I swam the race really well this morning with a lot of control, and felt that I'd progress not only tonight but into the final tomorrow evening. Unfortunately, that's not the case.
"After the race, when I experienced that kind of silence, I felt not only the disappointment for myself but the disappointment for other people as well."
Looking ahead to the 100m freestyle heats on Sunday, he added: "I have to get myself back up. It's fine to be disappointed. There's a little bit of time to allow myself to do that tonight.
"Tomorrow, when I get back up, I have a competition to finish now. And a competition where I have to perform well. I still want my spot on this team.
"It got a bit harder this evening but I'll find something within myself to give myself the best shot and try not to let this detract from that possibility."
Earlier on Friday, Alicia Coutts won the 100m butterfly in 57.59 seconds ahead of Jessica Schipper, with defending Olympic champion Libby Trickett missing out in third place.
Trickett, 27, is one of several former Australian champions on the comeback trail after a period of retirement, and she will now concentrate on trying to win a place on the the 100m freestyle relay team.
Christian Sprenger, the 200m breaststroke world record holder, won the 100m breaststroke in 59.91s, with Brenton Rickard taking the second Olympic place.
Kylie Palmer set an Australian record of 4:03.40 to win the 400m free, with Bronte Barratt in second place. Olympic champion Rebecca Adlington won the British trials in 4:02.35 two weeks ago.