London 2012: Liam Tancock takes up ballet and kick-boxing
By Nick Hope
BBC Olympic sports reporter
Last updated on .From the section Swimming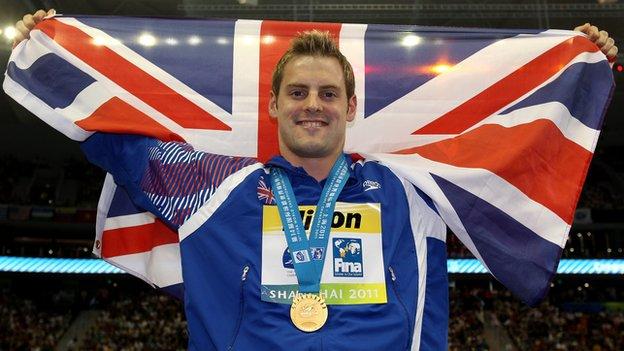 In the latest part of our weekly #olympicthursday series profiling leading British hopes, BBC Olympic sports reporter Nick Hope speaks to Great Britain's two-time world champion Liam Tancock.
Last year, Liam Tancock became only the second British male swimmer to retain a world title. That makes him a sure bet for a medal at London 2012, right?
Wrong. His speciality, and the source of those world titles, is the 50m backstroke - an event that is not an Olympic discipline.
The 26-year-old secured his Team GB place over the 100m distance earlier this month and, in a bid to conquer an event in which he finished sixth at the Beijing Games, Tancock has taken the unusual step of adding sports such as ballet, kick-boxing and rock-climbing to his training regime.
"It's not wearing tutus and prancing around," insists Tancock. "I like to look at people in different sports and discover what attributes make them good.
"Ballet dancers have a strong core, they're very aware of their hand and feet placement and we need that in the pool.
"Kick-boxing is about control, power, aggression, strength and the explosive movements are something we use in the pool.
"We're talking about tenths and hundredths of a second between medalling and not medalling. Any little extra thing we can do to help, why not?"
The move has much to do with the influence of coach Ben Titley. Titley heads his sport's Loughborough intensive training centre (ITC), also home to Olympic medallist Jo Jackson as well as European champions Fran Halsall and Lizzie Simmonds.
"We like to keep things fresh," Tancock's coach of nine years tells BBC Sport.
"He will soon be 27 and a lot of guys, later in their careers, supplement their swim training with other activities which make them think about their bodies differently.
"They have to think about how they are as athletes rather than just swimmers and, for sprinters in particular [like Tancock], they must have particularly good body awareness."
In addition to movement, body size is also key in swimming, something the Tancock family discussed with Titley back in 2003, just before the backstroker joined the East Midlands-based team.
"At the time I was coaching [world champion] James Gibson and [Commonwealth medallist] Melanie Marshall and Liam was a European junior champion in the 50m backstroke, so we knew he was talented," says Titley.
"He was quite a short fella for a swimmer though, only around six foot, and I remember both his mum and dad were quite tall.
"Liam told me that when he was a kid he had a scan on his wrists, which said he was going to be 6ft 5in by the time he reached his mid-20s. I thought, 'Well this is pretty interesting, he'll be something really special when he grows up.' Unfortunately the 6ft 5in didn't come out to play."
Not that it has held him back. In addition to world titles from Rome in 2009 and Shanghai two years later, Tancock has claimed three Commonwealth gold medals and six senior European honours.
Reaching the summit of any sport requires great commitment and sacrifice however.
"Obviously, when you're younger, you miss out on birthday parties or doing things at the weekend with friends because you're off competing," reflects Tancock.
"But honestly, I have no regrets. It's not because I've been told to do it, or it's the right thing to do. I've made the decisions myself because I love racing."
His passion for the sport is clear and, perhaps surprisingly, his motivation is not solely podium places.
"It's about personal bests. I never go into a meet thinking I want to get a medal," says Tancock.
"I know if I go into a meet and I swim a personal best time I'll be happy, because you can't do anything more than your best. If that gets you a medal it's a bonus."
But can he climb onto the podium in London?
"You can get a bit misled because he's so far ahead of everyone in Great Britain," says former world champion Karen Pickering.
"I do think, though, if there's ever a chance that he's going to hang on in the closing stages of the 100m, it's going to be with 17,000 people cheering him on - so his best shot is this summer."
Joint world champion Jeremy Stravius, who helped push Tancock down into sixth position in the Shanghai 100m backstroke final last year, will miss the 2012 Olympics after failing to make it through the French selection trials.
Tancock, who enjoys complete domestic domination in the event, is unmoved by this and is looking forward to the prospect of facing his replacement, Benjamin Stasiulis, among the rest of the world's elite this summer.
Although Tancock admits he does not understand why the 50m backstroke event, which features in World and European Championships, is not present at the Olympic Games, the Devon-born swimmer insists the 100m has always been his focus in training.
In qualifying for London 2012, the British record-holder achieved his quickest time in two years [53.16 seconds] and feels he is getting closer to achieving success in the longer-distance race.
"Every race I feel I'm progressing and definitely getting stronger on the 100m backstroke," he says.
"I remember the British record used to be 55.1 seconds and we're talking about 52.73 now, so it's all definitely moving in the right direction and I'm pleased to be part of that.
"When I think about the Olympics [this summer], I think 'excitement' and that it's a great time within British sport - I'm proud to be a part of this moment."