Sycerika McMahon and Melanie Nocher qualify for Olympics
Last updated on .From the section Swimming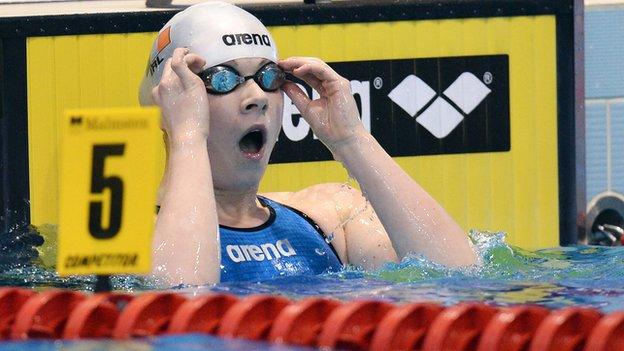 Sycerika McMahon and Melanie Nocher have both qualified for the London Olympics after producing brilliant swims at the European Championships.
McMahon bettered the 100m breaststroke Olympic time twice on Tuesday to make Wednesday's final in Debrecen.
The Portaferry teenager clocked 1:08.37 in both the morning and afternoon.
Nocher then produced the race of her life to finish fifth in the 200m backstroke final in 2:10.75 - .09secs inside the London standard.
The Belfast woman's time cut .93 off her Irish record set in Monday's semi-finals and her swim was a tremendous performance under intense pressure.
It was Nocher's last crack at the Olympic mark in the event with the deadline for qualification coming up next week [31 May].
The Northern Irishwoman went out hard and was close to a medal position before fading somewhat over the last 50 metres.
However, she hung on bravely to just squeeze under the Olympic mark.
France's Alexianne Castel took gold in 2:08.41 with Germany's Jenny Mensing [2:09.55], Spain's Duane Da Rocha [2:09.56] and Ukraine's Daryna Zevina [2:09.57] also ahead of the Irishwoman.
Nocher won a bronze medal in the event at the European Short Course Championships in December.
McMahon was fifth fastest qualifier for Wednesday afternoon's 100m breaststroke as she finished second in her semi-final behind Germany's Caroline Ruhnau.
Sweden's Jennie Johansson led the qualifiers in 1:07.65 - .72secs faster than the Irishwoman.
Limerick's Fiona Doyle was fifth in her semi-final in the Women's 100 breaststroke and was placed 12th overall in 1:09.68.
Northern Ireland swimmer Bethany Carson produced a personal best of 57.06 in the 100m freestyle heats but did not qualify for the semi-finals while Shani Stallard exited from the 100m breaststroke after a morning heat time of 1:12.28.
Carson broke Michelle Smith's 16-year-old 100m Irish butterfly record in March.
McMahon and Nocher are among five Irish swimmers in action at the championships on Wednesday.
Nocher goes in the 100m backstroke heats with McMahon competing in the 200m individual medley as well as the 100m breaststroke final later in the day.
McMahon will be joined in the 200m individual medley heats by Stallard with Karl Burdis in the 50m backstroke qualifiers and Nuala Murphy in the 800m freestyle.
Grainne Murphy and Barry Murphy, who have both already achieved the qualification standard for the Olympics, have opted not to compete in the Hungary event which is taking place from 21-28 May.