Adlington and Miley take gold as GB dominate in Barcelona
Last updated on .From the section Swimming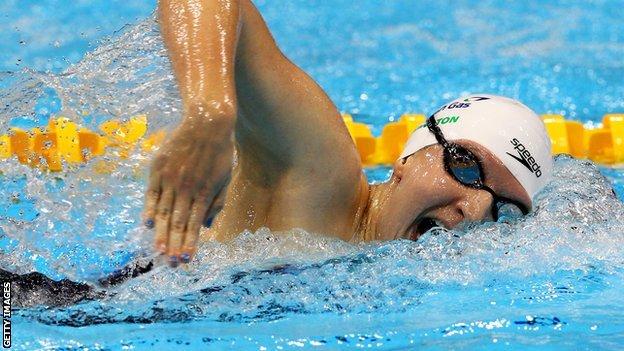 Hannah Miley won the 200m individual medley on day two of the Barcelona leg of the Mare Nostrum series as Britain finished with 29 medals.
Her gold was one of 16 GB medals on day two, including wins for Georgia Davies in the 50m backstroke and Michael Jamieson in the 200m breaststroke
Double Olympic champion Rebecca Adlington set a new championship record of eight minutes 19.86 seconds to win the 800m freestyle on day one.
GB finished with eight golds in all.
The gold for Davies in the non-Olympic 50m backstroke dicipline followed similar success in 100m backstroke on day one, while Miley added to her opening-day gold in the 400m medley.
James Goddard (200 IM) and Chris Walker-Hebborn (200m backstroke) were Britain's other gold medal winners.
Goddard was also second in the 200 metres breaststroke, behind Jamieson, while Andrew Willis took bronze as Britain monopolised the podium places.
Adlington surrendered the chance to claim her second gold when, as planned, she withdrew from the 400m freestyle final, after setting a time of 4:09.21.
Swansea ITC's Jazmin Carlin finished second in the race, to take the silver medal with a time of 4:10.52.
Sophie Allen won silver in the 200m individual medley, behind Miley, to add to a silver at the European Championships less than two weeks ago.
Matt Johnson took silver in the mens 400m individual medley, just ahead of Roberto Pavoni who finished third.
Jess Lloyd also took silver in the 100m freestyle while Swansea's Jemma Lowe finished second in the 200m butterfly final.
Lowe also finished among the medals in the 50m butterfly, taking third place and she won a bronze in the 100m butterfly.
Jack Burnell was third in the 1,500m freestyle while David Carry was joint third in the 200m freestyle in 1:49.83.
Stacey Tadd took silver in the 100m breaststroke, Jaz Carlin won bronze in the 200m freestyle and David Carry took silver in the 400m freestyle.
There was further success for Jamieson (100m breaststroke), and Pavoni (200m butterfly) who both took silver, and a bronze for Johnson (200m butterfly).
There was also a bronze for Aimee Wilmott behind Miley in the 400m medley while Miley also won a bronze in the 200m breaststroke.