Lizzie Simmonds wins gold in 100m and 200m backstroke
Last updated on .From the section Swimming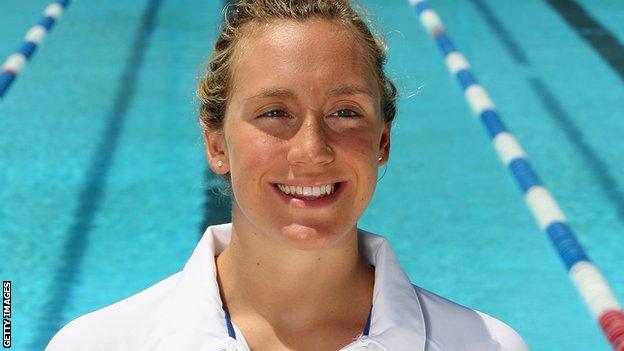 Lizzie Simmonds has won her second gold at the latest Mare Nostrum event, taking place in Canet.
The Loughborough swimmer won both the 100m and 200m backstroke and took silver in the 50m event.
Andrew Willis also won gold in the 200m breaststroke while Amy Smith came first in the 100m freestyle.
The British team won 10 medals in total during the two-day meet, following up the success enjoyed in Barcelona at the weekend.
Simmonds, who will be representing Team GB at the 2012 Olympics in the 200m backstroke, led from the gun to the finish in 2:08.94, over three seconds ahead of second placed Femke Heemskerk of the Netherlands.
Smith, who will also be at London 2012, took gold in the 100m freestyle in 54.96 seconds, ahead of Swedish swimmer Michelle Coleman.
Fran Halsall took silver in the 50m freestyle, finishing second behind Sweden's Therese Alshammer in 24.92 seconds, before taking bronze in the 100m butterfly.
The event in Canet is the second of a series of three meetings held each June, with the third and final event taking place on 9-10 June.