Thousands set for Great North Swim at Windermere
Last updated on .From the section Swimming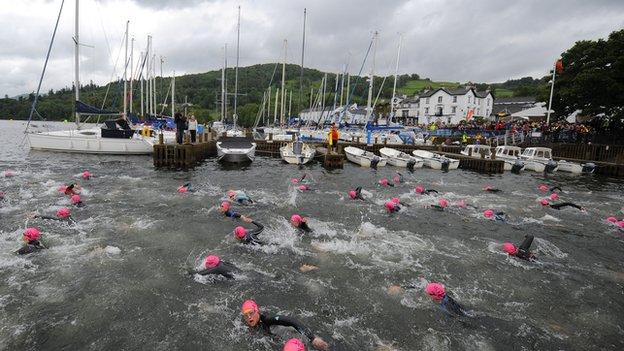 Windermere is set to host Britain's biggest outdoor swimming event, the Great North Swim, from 22-24 June.
Thousands are expected to take part as the 2012 event attempts to build on the success of last year's edition, where 10,000 people took part - with all spaces being filled six weeks after entries were opened.
Swimmers of all abilities have applied to swim half a mile, one mile or two miles in the Cumbrian open water - with waves of about 300 people setting off every half hour across the three-day event, highlights of which will be shown on the BBC.
While many will take on the challenge for fun or health benefits, the event also raises thousands of pounds for charity. Meanwhile, there will also be an elite race, where some of the world's top swimmers will go head-to-head, including world Champion and Olympic favourite Keri-anne Payne.
The British Gas Great Swims are a series of five outdoor swimming events which are taking place around the UK, with the Great London Swim having started proceedings on 26 May.
The next Great Swim will go ahead on 16 June at Alton Water Reservoir near Ipswich, followed by the Great North Swim at Windermere a week later.
On 1 July swimmers will take on the waters of Salford Quays as part of the Great Manchester Swim, before the series finishes with the Great Scottish Swim on 25 August at Strathclyde Country Park near Glasgow.