London 2012: Jazz Carlin and Ieaun Lloyd miss Olympic spots
Last updated on .From the section Wales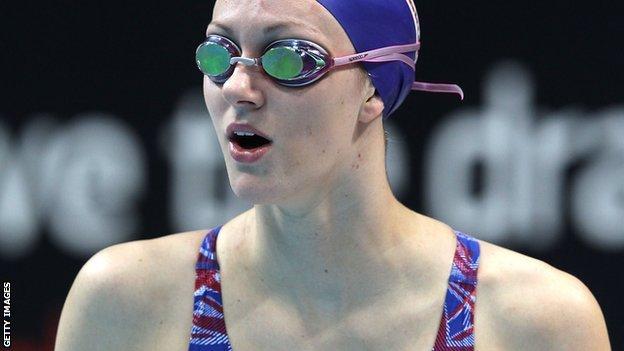 Welsh swimmer Jazz Carlin failed in her bid to claim an individual 200 metres Olympics place at London 2012.
Carlin needed a time of one minute 58.33 seconds in Tuesday's final at the National Championships in Sheffield.
But the Swansea 21-year-old finished fourth in 2:00.01, a time that also missed a place in the 4x200m squad.
Ieuan Lloyd also failed to grab an individual spot despite finishing second in the men's 400m in a personal best time of 3:48.10.
The Cardiff swimmer was 0.92sec inside the required qualifying time but Stockport's David Carry produced an immmense effort to win in 3:46.86 and claim the second individual spot behind Robbie Renwick.
Carry, 30, will compete in his third Olympics, while Lloyd had already secured a place in Team GB's 4x200m Olympic freestyle relay team.
Lloyd will look to put his 400m disapointment behind him when he competes in the 200m on Thursday.
"Because I was so close to getting in the individual 400m I've got some high hopes for the 200m and maybe I can get the individual for that," Lloyd told BBC Sport Wales.
"Before this competition I wasn't feeling great but I swam really well tonight and I'm pleased with a personal best time... hopefully I can do the same in the 200m."
His Welsh colleague David Davies, who has already booked an Olympic spot in the 1500m but missed out on an open water spot, finished fifth in 3:55.91.
Carlin was eighth fastest qualifier for Tuesday's 200m freestyle final in a time of 2:02.50 and improved that significantly in the final.
But the Commonwealth Games 200m silver medalist faced the task of lowering her personal best of 1:59.89, achieved in 2008, by more than a second in the 10-woman final if she hoped to join Rebecca Turner in the 200m individual event for London 2012.
British swimming's golden girl Rebecca Adlington won the final in 1:58.68 at Ponds Forge, ahead of Turner and Lucy Ellis.
Even if she failed in her individual bid, Carlin - a world and European relay bronze medalist - had hoped to claim one of the relay squad places but that required her to swim faster than 1.59.47 to have a chance of Olympic qualification.
Carlin was too upset to give an interview after the event but her coach, Bud McAllister, believes she will bounce back from the disappointment.
"I realistically expected a 1.58.50, which would have put her on that team for the relay but I think she's lacking confidence," said the American.
"It's happened to some of my swimmers before, she's got to look forward now and focus on the next four years.
"Every year there's a major meet - World Championships, Commonwealth Games in Scotland, World Championships again and then the [Rio] Olympics.
"What I've told her is that her best times would have made this Olympic team if she'd done them and she's capable of going faster.
"So we need to go back to work in the autumn and start looking ahead to going faster.
"The goal this year if she'd not gotten sick was not just to make the team, but try and make the finals and try and win a medal, and her best shot really is the 800m freestyle."
While Turner had already qualified for both the individual event and the 4x200m relay in the first trials at the Aquatics Centre in March, Adlington's effort earned her a relay spot along with Lucy Ellis who finished third.
Adlington, however, may reconsider being part of the relay squad given the demands of her 400m and 800m freestyle defences.
Welsh 100m backstroke record holder Georgia Davies, who has already qualified for the Olympics, finished second in her final in 1:00.60, behind Lizzie Simmonds who won in 59.89.
Thomas Haffield came fourth in the men's 200m butterfly in 2:01.64, which also saw fellow Welshman David Davies (2:06.63) finish last in the 10-man final.
Jemma Lowe, Georgia Davies, David Davies and Lloyd are the Welsh swimmers who have secured places in the British Swimming team for London 2012.