London 2012: Swimmer Jazz Carlin devastated at missing out
Last updated on .From the section Swimming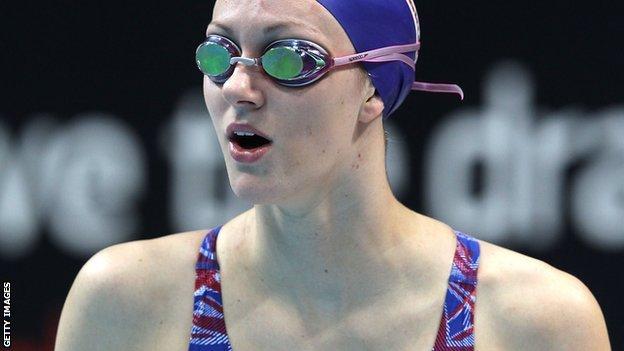 Jazz Carlin has revealed the depth of her disappointment at missing out on selection for the GB swimming team for London 2012.
The Swansea-based swimmer failed in her bid to claim an individual 200 metres Olympics place.
"It was a huge disappointment and really upsetting and it was quite hard to take, knowing I won't be a part of the Olympics this year," said Carlin.
Carlin finished fourth and also missed out on a place in the 4x200m squad.
The 21-year-old needed a time of one minute 58.33 seconds in the final at the National Championships in Sheffield, but could only record 2:00.01.
"It's not a great feeling because I thought I had done everything I possibly could in training but it didn't happen on the day. I just have to pick myself up now."
She was eighth fastest qualifier for the 200m freestyle final in a time of 2:02.50 and improved that significantly in the final.
Carlin - a world and European relay bronze medallist and a winner of a silver at the 2010 Commonwealth Games - had hoped to claim one of the Olympic relay squad places but that required her to swim faster than 1:59.47 to have a chance of qualification.
Carlin, who was too upset to be interviewed after the final, admits she was devastated at not being able to realise her dream of competing at London 2012.
"I have had so much support from swimmers and non-swimmers, and that has been really nice to know they still believe in me," she said.
"Sport is really tough: you win some, you lose some, and it just happens that this is my bad year when the London Olympics is on.
"I have been dreaming about a home Olympics for years now and it is a huge disappointment."
Her Olympic preparations had been hampered by glandular fever and tonsillitis, and she failed to qualify in her favoured 400m freestyle in March.
Jemma Lowe, Georgia Davies, David Davies, Marco Loughran and Ieuan Lloyd are the Welsh swimmers who have secured places in the British Swimming team for London.