Jersey's Emily Bashforth could spark island successes
Last updated on .From the section Swimming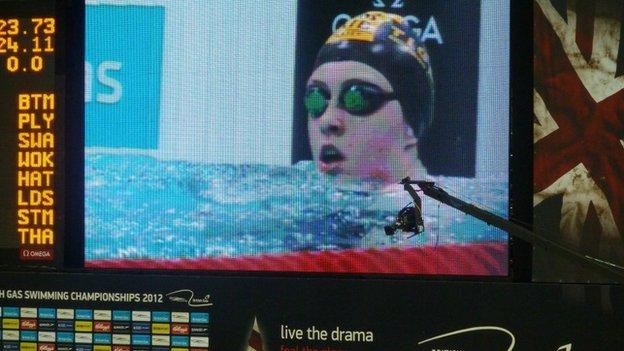 Coach Nathan Jegou hopes the performances of Jersey swimmer Emily Bashforth will inspire others in the island to follow her success.
Jegou's comments come after Bashforth swam for Great Britain at the Junior European Championships in Belgium, her first international competition.
The 16-year-old finished 21st in the 200m freestyle.
"Fingers crossed with her success we can have others that follow as well," Jegou told BBC Radio Jersey.
"For the first time in an international setup, it's great news for her and the Channel Islands.
"She's only just turned 16 so she's got another two years on the island with her education.
"We'll see how she progresses, it's always hard when you're at the top."
Bashforth's time of 2:05.78 in the individual event was just outside her lifetime best, but not enough to qualify for the semi-final.
But she then produced Great Britain's second fast split to help the 4x200m relay squad to fifth spot.
The teenager will now travel to the British National Championships in Sheffield along with fellow Jersey swimmers Ella Dias, Gio Guarino and debutant Cameron Donaldson.
"Obviously Emily will be hoping to achieve another medal like she did last year," Jegou added.
"They all look in good form, we're looking forward to it and then we've got Nathan Corrigan the following week.
"If they can do what they've been doing in training hopefully we can have a few finals and a few happy faces at the end."