Olympics swimming: Australia to review poor 2012 Games
Last updated on .From the section Swimming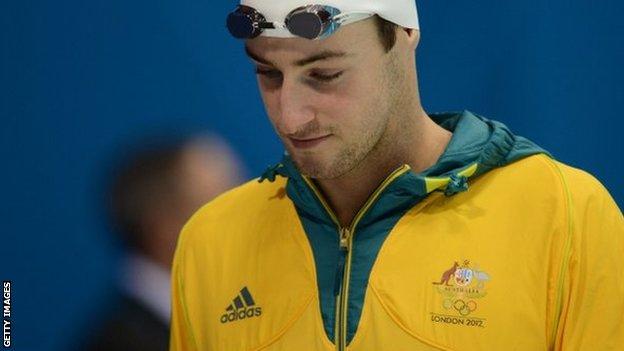 Australia will hold an independent review after leaving London 2012 with their worst Olympic medal tally in swimming for 20 years.
The team won 10 medals but only one gold in the women's 4x100m freestyle relay. They last failed to win an individual gold in the pool in 1976.
"The world has lifted the bar [in] swimming and so must we," said Swimming Australia president David Urquhart.
"We must do everything possible to get Australian swimming back on top."
Swimming is traditionally one of Australia's strongest Olympic sports but the team attracted criticism for winning one gold, six silver and three bronze medals in London - their lowest tally since Barcelona in 1992 - with the two open water events to come.
At the last Games in Beijing, the team won six golds, one down on their haul in Athens, while they picked up five golds among their 18 swimming medals in Sydney in 2000.
"There has been a lot said by people here in London and back at home about our overall medal performance," said Urquhart. "While everyone is entitled to their own view, no-one should doubt the commitment or effort of our swimmers.
"This is not a time for blame and scapegoating, this is an opportunity to make the changes required to rise to the international challenge."
The independent review will be led by former Australia and Great Britain swimming coach Bill Sweetenham and Australia's two-time Olympic medallist Susie O'Neill.
O'Neill, who has partly blamed Australia's poor performance on a lack of discipline, said: "What I've been hearing... is the work ethic from Australian swimmers is maybe not the same as it used to be 10 years ago.
"Talent gets you this far in an Olympics; work ethic gets you across the line. It's one part talent, four parts work ethic."
Urquhart hopes the review's findings will help improve Australia's performance at the 2014 Commonwealth Games in Glasgow and the 2016 Olympics in Rio.
The Australian team has also been criticised for its performances at the velodrome, having so far won just silver in the men's team pursuit and bronze in the women's team sprint.
But John Eales, the athlete liaison officer, defended his charges, saying: "We always want to win more and have more gold medals, but I think we've got to be careful not to look at it as a whole and to celebrate individual successes that are occurring.
"Sometimes people are putting in personal bests and the message is that they've failed - that can be pretty cutting."