Ruta Meilutyte eyes Olympic defence in Rio 2016
Last updated on .From the section Swimming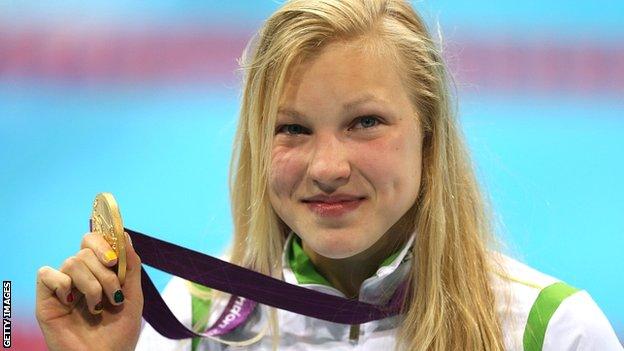 Olympic 100m breaststroke champion Ruta Meilutyte is determined to defend her title at the 2016 Rio Games.
In a 5 live Sport swimming special on Thursday at 19:30 BST, she says: "There is definitely a big difference between before [the London Olympics] and now.
"I think about Rio every day, it's my biggest goal for the next four years."
She adds: "I had a chance to go back to Lithuania after the Olympics, before the closing ceremony, and spent about a month there, seeing my family and friends that I really missed over the years, seeing the smiles on people's faces made me really proud."
Meilutyte, who beat world record holder and six-times Olympic medallist Rebecca Soni win the gold medal in a time of one minute 5.47 seconds, came to Britain in 2010 to join her father and brothers in the south-west of England.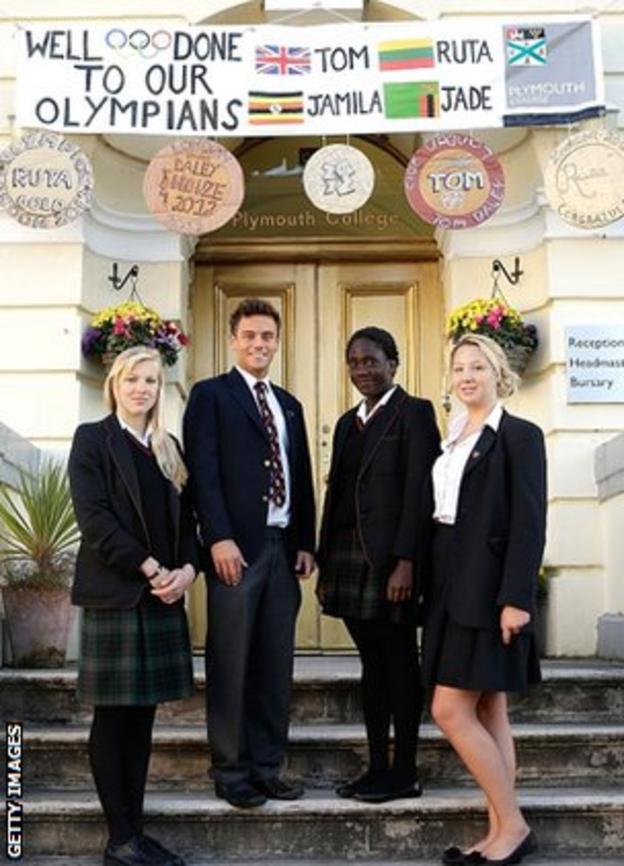 The talented teenager is one of four Plymouth College students to have competed at London 2012 and is coached by John Rudd, who recalled his first meeting with her.
"She swam a few sessions with us and didn't have a great deal of English at that time, it was definitely better than my Lithuanian, we did a lot of coaching by sign language and repeating things but it was absolutely clear straight away that she was pretty special in the water," he said.
"I categorically remember her saying 'I'm a freestyler' so we had a look at it and it was good, but it was her breaststroke that really stuck out and where we had something we thought we could work with.
"I always thought we would challenge for a medal in Rio rather than London, which was always going to be the Olympics for experience, to get used to what an Olympics is. We set a target that we'd be happy if she made the final. I had spoken to her about what an Olympic medal can do for your future but it was very much in the future rather than in London."
Meilutyte is now one of four Lithuanian swimming scholars at Plymouth and Rudd said: "They're a very proud nation and I hope that Ruta's success allows more of them to believe in themselves, they're still finding their own feet as a nation but they're very proud and blimey do they punch above their weight.
"To be able to look after your athlete's whole life, not just their swimming, education, pastoral and welfare needs, diet on a day to day basis and all of those trials and tribulations that come along for teenagers, whether they're regular kids or elite athletes, the fact we've got that all under one roof, with different experts in their field means success is maybe more inevitable rather than left to chance.
"I hope everyone realises that it can be done in Plymouth - in Britain - if you've got dedication and all of the right resources around you like we do have, that 'be all you can be' quest is a do-able thing here."
The coach admitted that there was huge interest in the College after Meilutyte's success.
"It did go nuts for several weeks. We can offer everything, residence, meals, education, swimming, the whole package and we did get inundated with enquiries and a lot of those came to fruition."
Asked about her defence of the title he added: "I don't think there'll be any problem with Ruta's motivation, she's very level-headed, there's no airs and graces.
"For me I love the challenge and the thrill of the big competition, I don't think I felt nervous at the Olympics, I felt something that some people might describe as nerves, I'd call it more of a buzz, and at my age you can only get that from coaching rather than competing so I don't think there's any danger on anybody's part that we'll struggle for enthusiasm."
You can download a podcast of the 5 live swimming review or listen again the BBC iPlayer until 10 October.