Swimmer David Carry decides not to carry on swimming
By Heather Dewar
BBC Scotland
Last updated on .From the section Swimming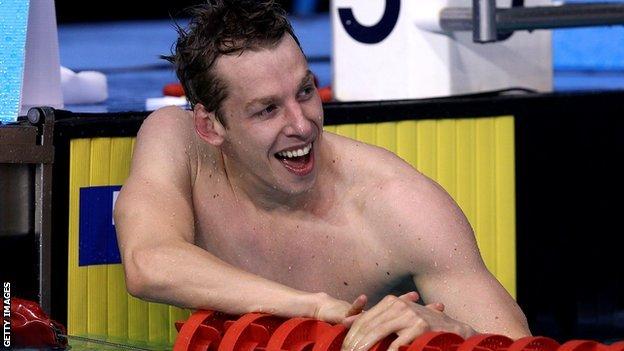 Scottish swimmer David Carry has announced his retirement from the sport, but the three-time Olympian aims to use his experience to inspire the next generation of Scots in the pool.
He will now start work for the management company that guided him in his career, striving to forge closer links between sport and business.
Carry, who won two Commonwealth golds in 2006, is also hoping he can help bring success to Scotland's swimmers at Glasgow 2014.
The Aberdonian revealed that the Commonwealth Games were close to his heart, being the first international competition he competed in, in 2002.
"I'd love to be able to help Glasgow 2014. It's such an exciting moment in the history of our sport and our country," he said.
"My big goal is to convert some of that excitement into actual participation and hopefully we'll see more [London 2012 silver medalist] Michael Jamiesons standing on that podium."
"Perhaps I can help others achieve what they want to achieve and I am really excited about that.
"I am retiring from swimming and starting a proper job," he joked.
Carry revealed that picking up an injury had helped make up his mind to retire, despite his reaching the Olympic 400m freestyle final at the London Olympics.
"It's been a really hard decision for me," he said.
"Having just swum at the Olympic Games, having made an individual final for the first time at the age of 30, I was on a high, but I always knew that I wanted to finish my swimming career on a high and what better way than a home Olympics to be able to do that.
"I know that Glasgow 2014 is only two years away and I am swimming better than I ever have done but I just think now is the opportunity.
"There is such a huge sway of goodwill and inspiration behind the swimming world; we have been blessed with such an incredible sporting year and I think now is the time to step aside and let other people take on that mantle now."
"It has been a hard season for me, I had a back injury for the first time in my career, which was a bit of a shock to me. Going through the whole rehab scenario was quite a drain and I thought at the age of 30 that is only going to increase.
In Carry's eyes, the future of Scottish swimming looks bright, with Michael Jamieson's breaststroke silver at the London Games leading the way.
"It's an incredible time for Scottish swimming," said Carry. "The likes of Michael Jamieson, Hannah Miley, Robbie Renwick all doing so incredibly well on the world stage.
"We are now competing for Scotland and in Scotland at a world level.
"Michael Jamieson doing an incredible swim in London, he really was the poster boy for the swimming team. If there is any way I can help him, I'll do that.
"And there are so many others coming through."
Carry also feels there is more pressure on swimmers now, particularly after a disappointing medal return from the London Olympics.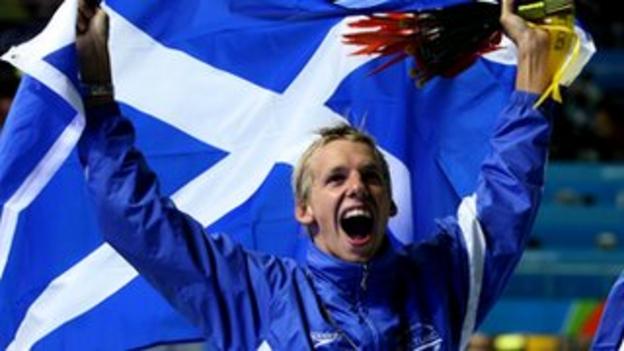 "Swimming is now a global sport, whereas in the past there has only been two or three super nations competing for the medals.
"But that's no excuse - we are there to win medals.
"The real frustrating thing was we got way more finalists as Team GB than before - 23 - but we weren't able to transfer finalists into medalists and that was frustrating."
"When I started in 2002 in the Manchester Commonwealth Games, two years before we won no medals in any event.
"To see it progress over the years and go from a team where you just wanted the tracksuit and be on the plane, now we are disappointed if we are not winning medals. That's a huge transformation. The culture change has been made.
"I think in Glasgow we will see the results of those improvements, and in Rio. It's a young team. Half the team were rookies."
"It's only small fractions that we are losing out on medals. It just needs small tweaks here and there. We have made hundreds of changes and seen a huge improvement."
And Carry is looking for golds in Glasgow for Scotland, like in Melbourne 2006 and Delhi.
"The competition is pretty high. We have the Canadians, who did incredibly well in London, the Australians who are always an incredibly strong nation, and we've got England to compete against as well.
"Our swimmers will put in a huge showing. We've got home advantage, that Glaswegian crowd shouting and screaming for us.
"If London was any sort of indication what it is going to be like, we are in for a pretty special show."