Ruta Meilutyte coach Jon Rudd gets Lithuanian honour
By Brent Pilnick
BBC South West Sport
Last updated on .From the section Swimming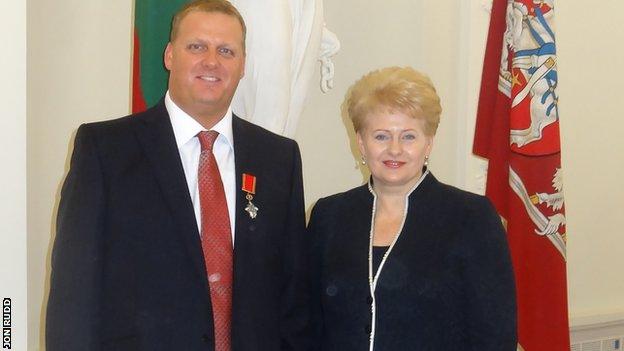 The Plymouth-based coach of Lithuanian has been honoured by the country's president.
Jon Rudd was awarded the 'Cross of the Knight of the Order of Merits' by President Dalia Grybauskaite.
He was also presented with the 'Olympic Gold Star', the highest honour the country's Olympic Committee can bestow.
"It's kind of the equivalent to an MBE from what I've read, so it was nice to be honoured in that way," Rudd said.
"There's not many occasions in the past where Lithuanian athletes have been coached by coaches outside of their country.
"So it takes it off the page a bit and underlines their respect for me and what we're doing here. It must be fairly unusual to present an honour of state to a non-Lithuanian," he told BBC South West Sport.
Rudd is the head coach at Plymouth Leander, the club which Plymouth College student Meilutyte swims with.
It is and Rudd says Meilutyte's fame in her homeland is much bigger than Daley's in the UK.
"Most people recognise Tom, but absolutely everybody recognises Ruta.
"She's the most famous female in Lithuania at this moment in time, she has rock star status there."
The schoolgirl, who moved to the UK three years ago, broke the European record on her way to claiming gold at London 2012.
"I would like to extend my sincere thanks for your contribution in training Ruta to represent Lithuania in the London 2012 Olympic Games," President Grybauskaite said to Rudd in a letter.
"Your outstanding talent and persistent daily effort have brought us Olympic gold.
"Hard work, wise advice, psychological support and your ability to steer the athlete to the right path, which you as a true professional demonstrated, have yielded brilliant and joyful results to Lithuania."
Russ and Meilutyte return to action in a World Cup meeting in Sweden later this month, but are focusing on the World Short Course Championships in December, and next year's World Championships in Barcelona.