Can British Swimming rise again after the failure of London 2012?

By David Bond
BBC sports editor
Last updated on .From the section Swimming99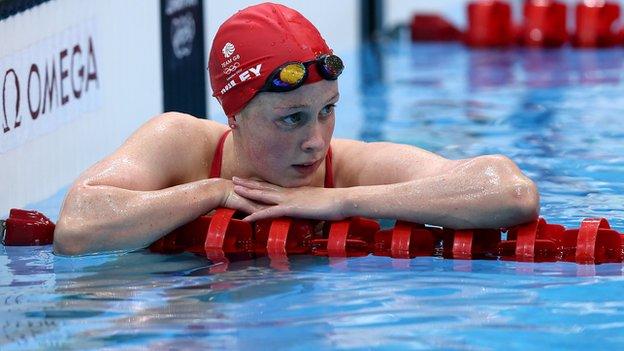 With the London 2012 organising team in Rio de Janeiro this week for a debrief, this is also a critical time for Britain's Olympic sports as they start looking ahead to plans for the next Games.
In the next month UK Sport will decide how it carves up the £250m guaranteed by the Government in the warm glow of London's success for the four-year build-up to Rio.
While most sports emphatically met the country's high expectations, one big ticket team missed their target.
Team GB's swimmers flopped in the Olympic pool winning just three medals - a silver for Michael Jamieson and two bronzes for Rebecca Adlington.
Gold medal hopefuls Hannah Miley and Fran Halsall simply didn't deliver as the team, coached by American Dennis Pursley, fell two medals short of the target for London raising questions as to why a squad which produced so many finalists couldn't produce a gold or indeed more podium places.
A review is now under way into what went wrong headed by Craig Hunter, chef de mission of Paralympics GB and a member of British swimming's executive board. The panel, which also includes Michael Phelps' coach Bob Bowman, is currently speaking to the swimmers and is expected to announce its findings on 6 December - a week before UK Sport publishes its funding decisions.
Inevitably much of the focus will be on how such a well-funded sport - swimming received £25m in the four years leading up to London and only rowing, athletics and cycling receive more - failed on the big stage.
And while the final conclusions are still being drawn up some of the headlines findings are starting to emerge.
The review is likely to conclude that:
Holding the Olympic trials in March was a major mistake.
Although it helped organisers with another test event for the London Games the team was asked to peak too soon. Those nations who left it until the summer to pick their teams were in top condition coming into London while Britain's swimmers may have been off the boil by the time the Games started.
There was a lack of serious competition in the run-up to the Games.
This amplified the problem with the timing of the trials. And so while Britain's rowers were exposed to the competitive heat of World Cup regattas there were no similar tests for the swimmers.
There is a need for a tougher, no compromise culture in British swimming.
Although former Performance Director Bill Sweetenham tried to introduce a tougher regime during his years in charge, there is a feeling the sport may have gone backwards under his successor Michael Scott.
Home advantage may have become home disadvantage.
As Rebecca Adlington told the BBC during the Games, the pressure of performing at a home Games may have got to a lot of the team. How else does one explain how out of 23 finalists only two swimmers won medals?
Now, you would expect UK Sport to be ruthless with British swimming when it dishes out the cash for Rio next month. But my understanding is that one of the considerations will be whether Britain's young swimmers look good enough to improve in Brazil in 2016.
The answer to that question seems to be yes, so British swimming might yet get a reprieve if it can prove it has really learnt the lessons from London and put in place a structure which emulates the high achievers of rowing and cycling.