Molly Renshaw already has Rio in mind - Andy Manley
By Owen Phillips and Owen Bradley
BBC Sport
Last updated on .From the section Swimming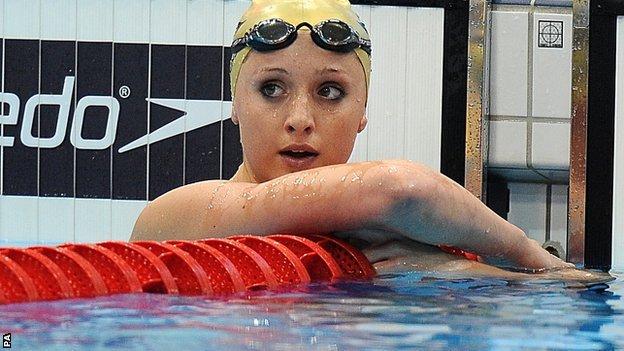 Teenage swimmer Molly Renshaw's coach Andi Manley hopes her omission from Team GB's London 2012 Olympic squad will inspire her to reach Rio in 2016.
The 16-year-old is part of a 17-strong Great Britain team currently competing at the European Short Course Championships in France.
Manley told BBC Radio Derby: "When you are that age to miss out on something so massive will have a lasting impact.
"But I hope it becomes a positive thing and adds drive and hunger."
The Derbyshire breaststroke specialist was controversially overlooked for the London Olympics despite achieving the required qualifying time in the 200m event at the first National Championships trial.
Renshaw finished second at the first of the two trials, missing out on automatic qualification, and although she won the second trial she came in 0.83 seconds outside the required time.
"We had a real mix-up with getting Molly on the Olympics with when the trials were, and there being two trials," Manley said.
"To be fair British Swimming are looking at the best way to get their best athletes on the team next time."
Renshaw, who has just started studying for her A-levels, is swimming outside her comfort zone at the first international meet of the season in Chartres.
The Derventio Excel star is competing in the 50 and 100m breaststroke, in addition to her usual 200m distance.
"She is racing her main event," Manley explained. "We are also looking at developing her speed over the next season and beyond. That is an area we have looked at that needs real improvement so she is racing the 50m and 100m breaststroke.
"Certainly the 50m is untested at an international meet but it's all part of a bigger plan.
"The quality will be good. There will be a lot of swimmers that went to the Olympics and have kept their training going because there is the European Short Course Championship and there is a World Short Course Championship in December.
"This winter is about getting some more racing in. There is a World Championships in Barcelona next summer so they have not actually decided when the trials will take place.
"We want to build some skills and look ahead - firstly to next summer - but then plan for Rio," he added.
The dates of the trials ahead of next summer's World Championships are still yet to be decided, as British Swimming carries out its post-Olympic review.
"The Olympics didn't work as we wanted and the very fact that British Swimming have looked at it and have already decided they won't have two trials is good. At least we know this season there will be one trial," Manley said.
"Then I am not just looking at scraping onto teams. We want the progression then obviously the aim for next summer is to make the semi-finals in Barcelona."
Renshaw added: "I'm hoping to make the Worlds and probably try to get a medal at the Commonwealth Games - that would be incredible."