British swimmer Ellen Gandy wants to represent Australia in Rio
By Nick Hope
BBC Olympic sports reporter
Last updated on .From the section Swimming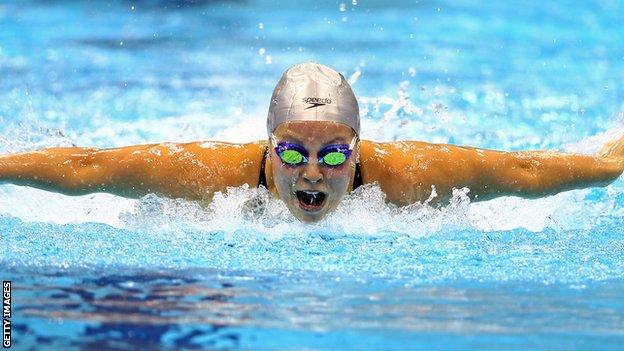 British Swimming has been dealt a blow with the news that world silver medallist Ellen Gandy plans to switch allegiance and represent Australia.
Gandy, 21, who trains in Melbourne, was considered a strong medal prospect for London, but was eliminated in the heats of her favoured 200m butterfly event.
"It started with the Olympics. I was really disappointed with my performance," reflected Gandy.
"The last five years have been really difficult, especially the travelling."
In an interview with The Australian Gandy continued; "A lot of the time I felt like I was in limbo because I didn't feel Australian, but I didn't really feel British either because I wasn't there all the time."
British Swimming have told the BBC that they have not received official notification from Gandy of her intention to leave the GB programme, but it is understood that the move would be "unsurprising".
The swimmer who was born in Bromley, London, emigrated with her family to Australia at the age of 16 and revealed that she considered quitting the sport after her disappointing performance at the 2012 Olympics.
"I sat down with (coach) Rohan (Taylor) and he suggested that I look at establishing a more balanced lifestyle, go back to University and, as part of that discussion, he raised the idea of competing for Australia.
"I had thought about it before but not seriously, but when I looked into it, it became something that I was really excited about."
The two-time British Olympian continued; "It's not that I don't like Britain any more, but Australia has always been so supportive of me as a foreign athlete. They have never treated me as an outsider."
Gandy will now miss next year's World Championships in Barcelona as 12 months must pass before she can represent another nation.
Whilst the Olympics in Rio 2016 will be her long-term target, the swimmer could in theory return to the UK in the green and gold of Australia for the 2014 Commonwealth Games in Glasgow.
The news of Gandy's departure from the GB programme comes on the same day that Beijing Olympic champion Rebecca Adlington labelled the current situation surrounding the sport as an "absolute mess".
British Swimming endured a "disappointing" London Games, attaining just three medals when the sport had targeted five-seven.
They are currently searching for a new head coach and performance director following the departures of Dennis Pursely and Michael Scott.
On Sunday British Swimming revealed they were "pleased" with the findings of a review panel which stated the performance programme does not need a "major overhaul or change of direction" after reviewing its London 2012 results.